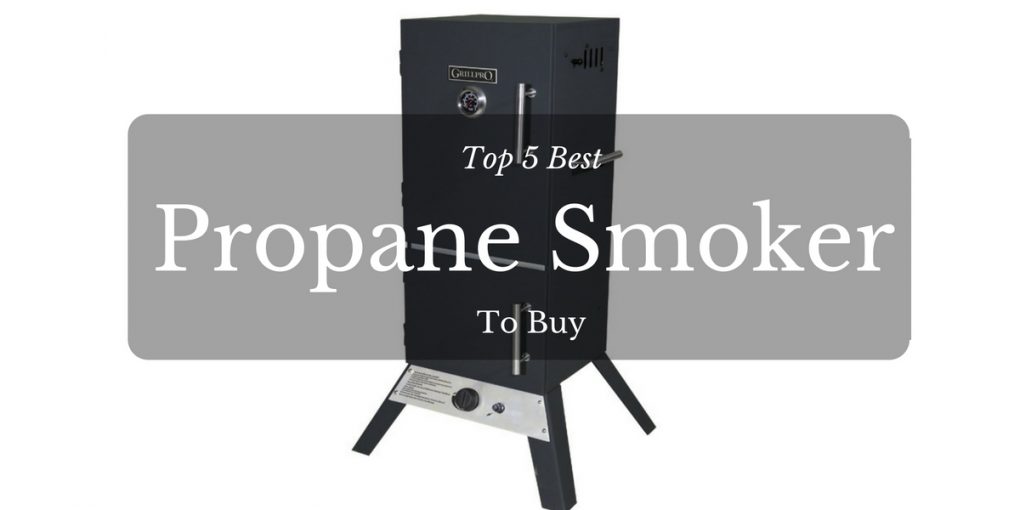 There are few smells in the world that trigger a person's taste buds like the unmistakable aroma of meat in a smoker. The scent wafts through the air, making nostrils flare and stomachs growl. Most home chefs and grill masters alike agree that smoking meats like ribs and briskets is the most flavorful and mouthwatering cooking method. I usually smoke chicken, besides chicken piccata recipe is loved by the family.
Quick Comparison: Top Propane Gas Smokers 2019
**Below, you'll find our more detailed reviews, but you can also click the links above to see current prices or read customer reviews on Amazon.
---
The 5 Best Propane Gas Smokers Reviews
The Gold Standard of Smokers
Though there are other options, like electrical and charcoal smokers, a gas smoker is thought of as the gold standard for smoking meats at home. Propane smokers allow for a leave it and forget it method of slow cooking, which makes things easy for home cooks. At an average cost of about $200, they are affordable, easy to clean and incorporate the use of wood chips, chunks or pellets to blend a unique flavor profile.
Of the styles of propane-fueled smokers, a cabinet style smoker allows for easy access and helps make the process of cleaning a bit more efficient. Some cabinet style models include two doors, allowing you access to the cooking chamber as well as a separate place to check on the flame and water pan.
Similar to gas grills, the temperature of a gas smoker is generally easier to regulate than its wood and charcoal competitors. With that said, regular users of gas smokers often voice concern that they are unable to keep the temperature as low as possible, leading them to take measures into their own hands. Sometimes that means leaving the door slightly ajar to let the air escape, a method proven to help the process albeit you will burn through more gas.
Another thing to consider is purchasing a grill thermometer to help regulate the temperature inside the smoker, as the ones included on the unit itself may not be the most reliable.
---
Here are a few things to keep in mind when shopping for the perfect propane smoker for you:
Dependability

.

Look for a company known for building high-quality products constructed for the long haul. Consider whether it is worth it to spend a few extra dollars on something with outstanding reviews that will most likely last forever versus something lower on the proverbial food chain you may have to replace after a couple of years. Think names like Masterbuilt or Char-Griller.

Capacity

. There are propane-fueled smokers so compact you can use them inside your home or there are smokers built to feed a crowd. When you're trying to decide on a smoker that's right for you, it is pertinent to consider how you intend to use it. Will you be using your propane smoker regularly to feed crowds at large family gatherings? Will you use it a few times a year after a successful deer hunting weekend? Will you use it to feed you and your spouse? Think about your individual needs when considering which smoker to buy - bigger doesn't necessarily mean better.

Build

. When you're looking to buy the perfect propane-fueled smoker, look for quality construction. Consider the materials the smoker is built with. While it might be a nice feature for the unit to be portable, it may also be a better investment if it is built with thick, high-quality steel.

P

rice

.

There are some pretty expensive propane smokers out there and some pretty cheap ones as well, but something in the middle will probably suffice. The average cost of a propane smoker is around $200, which means there isn't that significant a difference in price for the quality. While it is never a good idea to bite off more than you can chew financially, $40 can make a difference in this case, and it may be worthwhile to spend the extra money for something built to last.
---
Our Top Five Picks
Considering each of these things, here are our picks for the top propane smokers in 2016:
This smoker comes in three sizes, 30-inch, 40-inch and 44-inch, ranging from 717 square inches to 2,000 square inches of cooking space. Each size features push button ignition, two doors for easy access to both the cooking area and the water tray and a locking door with built-in temperature gauge.
The handles on the two door system are equipped with cool touch wire handles as well, to help prevent burning your hands on the system when it's hot.
Pros

: Comes in three sizes, featuring push button ignition and two-door system.
Cons

: It is large and among the more challenging smokers in terms of portability.
---
If you're looking for versatility in a propane smoker, this is the one for you. The Big Easy lets you smoke, roast and grill using TRU-Infrared technology to evenly cook whatever your heart desires. It holds up to 25 pounds for roasting and features 180 square inches of cooking area.
Pros

: Versatility abounds with this bullet-style.
Cons

: The bullet style smoker features a smaller cooking area than its cabinet style comrades.
---
Rooted in ancient cookery, the Kamado Kooker draws from ancient cooking methods that used large clay ovens. Modern day Kamados are built out of heavy ceramic and feature solid steel construction made to stand the test of time.
Versatility is another prominent feature of this smoker, which is actually known more for being an amazing grill. There are 306 square inches of cooking space and 165 square inches of warming space on the cast iron cooking surface. In addition to a temperature gauge, the lid locks.
Pros

: A rich history has led to the quality construction of a long-lasting cooking vessel.
Cons

: The bullet style smoker features a smaller cooking area than its cabinet style comrades.
---
Portability is a key feature of the Camp Chef 18-inch Smoke Vault, which features two adjustable smoking racks, three adjustable damper valves and a built-in door thermometer. A matchless snap ignition offers an easy and convenient start up as well.
Pros

: Portability and ease in cleaning are among the best features of this medium sized smoker.
Cons

: There is less cooking area for larger smoking projects than other cabinet style models.
---
Named with its versatility in mind, the Nordic Ware 365 makes it possible to smoke your favorite foods 365 days a year. While the compact unit may certainly be used outside as well, it is one of only a handful of its kind that are frequently used indoors.
The smoker features a high-dome cover, base pan, water pan, nonstick smoking rack and thermometer, and comes with a recipe book and wood chips.
With this smoker, it's pros are the same as its cons.
Pros

: It is small, making it easy to move and a breeze to operate indoors in the cold winter months.
Cons

: However, its size is also its downfall for hardcore smoker lovers, who may prefer something much larger in the long run.
---
In Conclusion
This is just a sampling of the options out there for propane smokers, which are capable of delivering mouth-watering smells and even better tastes in the comfort of your backyard. While some people swear by charcoal and electric grills, others argue you can't beat the portability, versatility and ease of use of their propane competitors.
In review, most gas smokers come in either a bullet or cabinet style construction. When selecting the right propane smoker for you, it is important to keep in mind several factors. Dependability, capacity, build and price are among the main things to consider as you shop.
The best part of all of it despite what you end up with is the end game. Soon you too will be the envy of the neighbors as that delicious, smoky aroma wafts throughout the neighborhood. One last piece of advice – buy an extra rack of ribs, too, because chances are with all of that amazing smoked goodness in the air you may just attract some company.