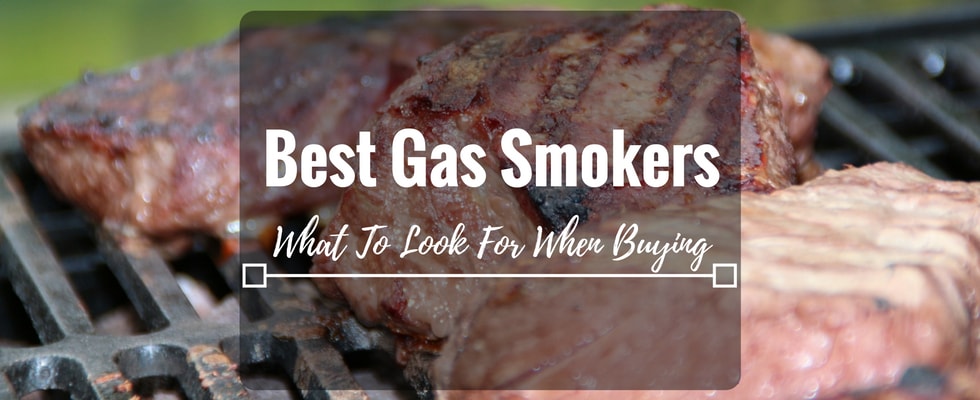 Best Propane & Gas Smoker Reviews (2018): Our Top Recommendations For The Money
Smoking meat, poultry, and fish is not a task for the faint of heart. Traditional smoking requires a lot of wood or charcoal, a lot of heat, and a lot of time and patience. But modern times call for modern cookers, and gas smokers are just the solution.
With a gas smoker, home cooks(and even restaurants) can get authentic-tasting barbecued meats with little effort. Gas smokers are easy to use even for people who are just learning how to smoke meats. I usually smoke chicken, besides chicken piccata recipe is loved by the family.
Here is a quick rundown on the benefits of gas smokers, what features and functions to look for when buying a smoker, and some of the best gas smokers on the market.
Quick Comparison: Top Gas Smokers 2018
**Below, you'll find our more detailed reviews, but you can also click the links above to see current prices or read customer reviews on Amazon.
---
Best Gas Smokers & What To Look For When Buying
Benefits To Using A

Gas

Smoker
Traditional smokers rely on keeping the fire burning, which means blocking off a lot of time on your schedule to ensure that your meats are still cooking. Gas smokers use the standard propane tank that gas grills use, so keeping the smoker going for long periods of time (think: 10-hour smoke-fests) isn't so hard.
You do have tocheck (occasionally) on the water and wood chips used in a gas smoker, but this is more for ensuring flavor and moisture than making sure the entire cooking process hasn't stopped.
Most gas smokers that you'll find for sale today are the vertical design smokers that don't take up a lot of space and are can be picked up and moved. If you think you might want to take your smoker camping or to a gathering every once in a while, the portability of these models is a key benefit.
Another benefit of the vertical design gas smoker is that more smoke reaches the meat, since smoke naturally rises. The more smoke that reaches the meat, the more flavor you'll get. This video is a great introduction to how a vertical propane smoker works.
Gas smokers also heat up faster than charcoal smoker or wood burning smokers, since you don't have to wait for a fire to heat up.
What

To

Look For When Choosing A Gas Smoker
Drip tray

. Safety should be your number one priority when working with any type of fire, so a drip tray is essential. Without a drip tray, you risk starting a grease fire. Surprisingly, some smokers do not come with a drip tray, so be sure to double-check for one.

Temperature control & range

. Most gas smokers come with a temperature gauge (or thermometer) right on the door, so you can see how hot the food compartment is getting inside. This is an essential feature that will help you avoid burnt or dried-out foods.

Controls and vents that allow you to vary the temperature also important. If you like to slow smoke at very low temperatures, look for a smoker that goes low enough but also has temperature controls that let you go there. A temperature range is useless if you don't have control over it.

---
Quality of construction

. If you find a low-priced gas smoker (under $150), be sure to check the metal used in constructing the unit, as well as how the product is assembled. Thin, flimsy metal will warp at high temperatures, and has poor insulation. Poorly sealed seams can cause you to lose heat, resulting in longer cooking times. Choose a model with heavy steel that has insulation.

Two-door models

. Another way you can lose heat while smoking your food is to open the door to the cooking compartment. Two-door gas smokers have a door to the cooking compartment (that gives you access to the food) and a separate door to the flame and water chamber.

You'll need to check on the flame and water a few times throughout the cooking process, so a separate door is essential to reducing heat loss.

---
Adjustable shelves & large capacity

. Even if you're only starting out with smoking meats, consider getting a model with adjustable shelves and a medium-to-large capacity. Having the option to smoke large pieces of meat (or even a whole turkey) is nice to have, especially once you get the hang of smoking.

Sturdy legs

. A gas smoker that topples over if it's bumped or a gust of wind comes by is a safety hazard. What's more, you could risk your high-quality meets and wood chips. Look for smokes that have sturdy metal legs and that stand at wide angles.
Top 5 Gas Smokers on the Market
This popular smoker by Char-Broil pulls triple-duty by being an all-in-one smoker, roaster, and grill.This unit is right for you if you like to experiment with cooking, often need to cook multiple foods at once, or are simply looking to save space with an all-in-one cooker.
Large capacity and double-stacking baskets allow you to cook large cuts of meat, or two whole birds, at once.
The use of Infrared heat means that the smoker does not require you to add water, yet still turns out juicy meats.
A separate compartment for the wood chips allows you to check on and replenish them without opening the main cooking compartment.
This smoker weighs only 58poundsand has a sturdy design that doesn't take up a lot of space.
---
The round shape of the baskets means that long slabs of meat won't fit unless trimmed.
Although this cooker has a temperature gauge and controls, it can be hard to get this down to a very low heat (nothing below 250), so if you need to do some super slow smoking, this smoker may not fit the bill.
The legs of the smoker go straight down, instead of at an angle.
If you hate having to cut up slabs of ribs or whole briskets to fit them onto a smoker shelf, this Camp Chef Smoker is a good choice.
The large capacity gives you the flexibility to cook very large cuts of meat and whole birds.
Comes with a removable base tray for easy clean up.
Includes two adjustable shelves and a Jerky Rack.
Easy-to-read door thermometer.
Three vents to let you control temperature.
Slightly angled legs for sturdy support.
---
This smoker has only one heavy-gauge steel door, so heat can escape when you're checking the water or wood chips.
At 75 pounds (for the unit only, not including propane tanks), this smoker is heavier than most of its competitors, so you'll want to consider that if you think you'll have to move it alone.
As the name suggests, this unit from Smoke Hollow has two doors, so you can access the water and wood pans without letting out valuable heat from the food compartment.
The smoke box has a large capacity, so you won't have to feed it so often.
At 38 inches tall, you can fit four rows of adjustable shelves.
Comes with a meat hanging rack.
Has upper and lower vents for maximum temperature and smoke control.
The food compartment capacity makes this is a great smoker if you're cooking for a crowd.
Constructed from heavy steel that has been welded together, so heat leaks shouldn't be an issue.
---
Weight is 68 pounds, so it is not as light and portable as a few other smokers.
For a tall smoker, it has short legs, which only have a slight angle.
Another Camp Chef model ranks high among gas smokers, and that's this 18" vault.
The quality and features are identical to those of the 24" model.
It weights 10 pounds less than the 24" model, which makes it more portable.
---
The smaller capacity of the 18" smoker means that you can't cook very large cuts of meats.
Features a fully-adjustable heat control and temperature gauge on the door.
Easy-access drawers with handles for the water and wood chips (so you don't have to open the main cooking compartment).
You can also fit a lot of water and wood chips, so you won't have to check on them as often.
​Comes with five adjustable cooking racks and a meat hanger.
Capacity is large enough to cook full-size briskets and whole birds.
The cooking compartment has been welded together.
---
The heaviest smoker in our Top 5, coming in at a whopping 93 pounds.
Very short legs might not be enough to stop this unit from being pushed over.
---
---
Although the Char-Broil 3-in-1 smoker has a lot of bells and whistles, and doesn't require you to use water, it can be hard to control the internal temperature, which is really is essential when smoking foods.
.