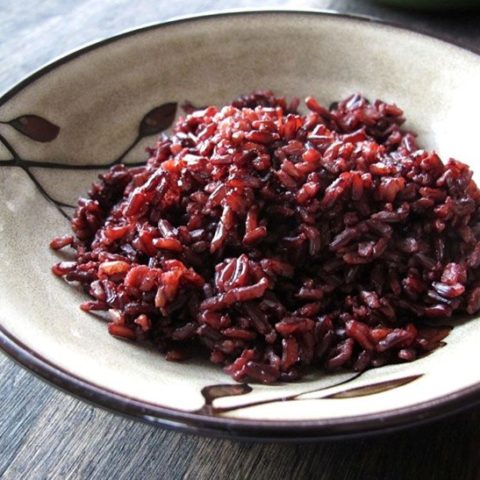 Black Rice in Rice Cooker Recipe
I love that black rice is both tasty (it has a nutty taste) as well as a powerhouse of nutrition. At first, I was worried that it would be harder to cook than standard white or brown rice, but I've been pleasantly surprised at how easy it is.I'll definitely be cooking more of it.
I hope that you have found this tutorial helpful. Give it a try, and have fun experimenting with new flavors and dishes that go well with black rice, like this Thai Black Sticky Rice Dessert from TheWoksOfLife.com.
Ingredients
A rice cooker (see note below)
1 cup uncooked black rice (will result in approximately 1 ½-2 cups of cooked rice)
A fine mesh strainer or colander with small holes
2 ¼ cups water
Salt and pepper (optional, omit if planning to make a sweet dish with the rice)
Instructions
Step 1. Rinse and Drain the Rice to Remove Excess Starch,
Step 2. Add the Rice to Your Rice Cooker,
Step 3. Add Water to the Rice Cooker,
Step 4. Add Seasoning to the Rice/Water Mixture,
Step 5. Plug in Your Rice Cooker and Set to Cook for 30 Minutes,
Step 6. Let the Rice Sit After Cooking, Step 8. Stir, Serve, and Enjoy!