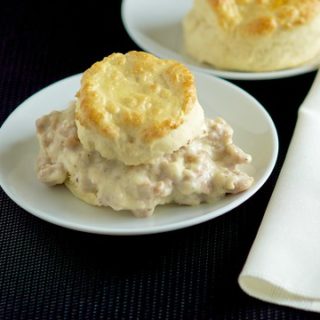 Mcdonald's Sausage Gravy Recipe
Mcdonald's sausage gravy is truly one of the highlights in the fast food industry if you ask me. There's just something about that lightly salty, creamy, and rich gravy that makes it a great sauce for sausages and other kinds of food such as steak, chicken, mashed potatoes, and more.
If you feel like making a batch of this gravy at home, remember that you can easily make one in well under 20 minutes with just a couple of ingredients. All you will need is some sausage, grease, milk, worcestershire sauce, all purpose flour, black coffee, and seasoning. Just mix all of these ingredients in a pan for a couple of minutes and you'll end up with your very own Mcdonald's sausage gravy.
If you have any questions about this article, please do not forget to leave a comment in the box below. I'll try to get back to you as soon as I can. Thank you and happy cooking!​
Ingredients
Sausage
Bacon Grease
All Purpose Flour
Milk
Black Coffee
Worcestershire Sauce
Seasoning
Instructions
Step 1: Prepare The Sausage
The first thing you will have to do is cook the pork breakfast sausage. Simply place your pan on your stove top over medium-high heat. Once the pan is hot enough, place your pork breakfast sausage in the pan and cook it until it gets completely browned. Avoid overcooking your pork breakfast sausage because you will continue to cook it a little later as you finish cooking the other ingredients.Once browned, remove your pork breakfast sausage from the pan and set it aside.
Step 2: Create The Sauce Base
After removing your pork breakfast sausage from the pan, keep your stove top temperature in medium-high heat.To create your sauce base, add the bacon grease to the pan. If you don't have bacon grease, you can use lard or shortening.Stir in the grease inside the pan and adjust your stove's temperature to medium heat. Once in medium heat, you should now proceed to add the flour to the pan. Stir the flour constantly until it reaches a golden brown color.​
Step 3: Make The Sauce Creamy
Once your flour have been cooked, it's now time to make your gravy creamy. To do so, slowly add the milk into the pan. As you add the milk into the pan, slowly whisk it in until it is thoroughly incorporated with the flour.​
Step 4: Add The Rest Of The Ingredients
Once the grease, flour, and milk have been thoroughly mixed, it is now time to add in the rest of the ingredients. Add the sausage, black coffee, Worcestershire sauce, pepper, and salt to the pan. Give the gravy a mix until every ingredient is well incorporated with one another.
Step 5: Thicken Up The Gravy
The last thing you will have to do is thicken up the gravy. To do so, all you have to do is reduce the heat to low and simmer it for about 15 minutes. If 15 minutes has passed and your gravy still hasn't reached the right consistency, simmer it some more until it does. Remember to keep stirring the gravy every couple of minutes to ensure even cooking.​
Nutrition Information:
Yield:

4
Serving Size:

1
Amount Per Serving:
Calories:

211
Total Fat:

7g
Saturated Fat:

3g
Trans Fat:

0g
Unsaturated Fat:

4g
Cholesterol:

16mg
Sodium:

313mg
Carbohydrates:

28g
Fiber:

1g
Sugar:

1g
Protein:

7g