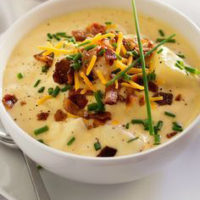 Rafferty's Potato Soup Recipe
Rafferty's potato soup is a truly decadent dish that is full of flavors. You've got the flavors potatoes, cream cheese, mushroom soup, and celery soup to make a fantastic mix that will make you feel an unforgettable gastronomic experience. It's a good thing that you can easily make a batch at home with a couple of simple ingredients and a large soup pot.
When making your potato soup, keep in mind that it is a highly versatile dish that you can experiment with. So the next time you whip up a batch of Rafferty's potato soup, you should try adding in other ingredients that can amp up your eating experience.
Ingredients
Potatoes
Onion
Cream Cheese
Milk, Cream of Mushroom Soup
Cream of Celery Soup
Butter
Garlic Salt
Instructions
Once you have prepared all your ingredients, it's now time to start cooking by following these simple set of instructions.
Step 1: Cook Potatoes and Onions
The first thing you will need to do is place your onions and potatoes in your soup pot and add just enough water to cover the ingredients.Simmer the potatoes and onions until they're completely tender. To know whether a potato is tender, look for the largest piece of potato you have simmered and stick a fork in it. If it's completely cooked, the potato will simply slide off the fork.As you wait for your potatoes to simmer, set your stove top temperature to medium heat.​
Step 2: Add In The Milk and Cream Cheese
Once your potatoes and onions are already tender, you can continue by adding the milk and cream cheese. After adding the cream cheese and milk to your soup, remove your pot from heat or turn off the stovetop.​Continue to stir in the milk and cream cheese until there are no lumps of cream cheese left. Make sure that your soup comes with a smooth and creamy texture.
Step 3: Add The Rest Of The Ingredients
After completely mixing in the cream cheese and milk, it's now time to add in the rest of the ingredients including the soups, spices, and butter.Continue to mix all the ingredients thoroughly to ensure that every ladle of soup will contain the all of the ingredients flavors.
​Step 4: Serve and Garnish
Once you are sure that all the ingredients have been thoroughly mixed, you can now serve the soup while it's still piping hot.As you ladle the soup in the bowl, you can continue to garnish it with your preferred ingredients. If you have any friend bacon, you can try crushing the crispy bacon into little bits and sprinkling it over your soup. Can also do the same with shredded cheese and crushed nuts. You may even want to add a light sprinkle of cayenne pepper for that extra kick.