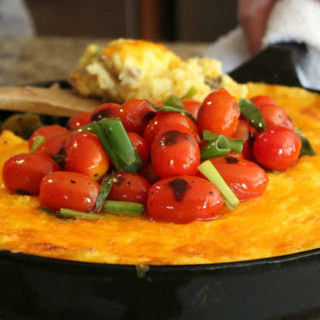 Sausage and Grits Breakfast Skillet Bake
This is one of my go-to recipes when I'm hosting a crowd for brunch. It looks great plus can be made the night before and baked in the morning.
Ingredients
1 pound hot breakfast sausage
2 cups chicken broth
2 cups milk
1 cup stone-ground grits
3 cups shredded cheddar cheese
2 tablespoons unsalted butter
Kosher salt and freshly ground black pepper
8 large eggs
1 tablespoon of vegetable oil
8 ounces of grape tomatoes
1 bunch of scallion (green parts only , Sliced)
2 tablespoons of apple cider vinegar
Instructions
Heat the oven to 375 degrees.

Heat a large Cast Iron Skillet over medium-high heat cook the sausage until browned. Remove from the heat, drain off the rendered fat and spread the sausage across the bottom of the skillet.

Meanwhile, in a Large Saucepan, bring the chicken stock and milk to a boil over high heat. Whisk in the grits, reduce the heat to low, and cook, stirring frequently, until tender and thickened, about 40 minutes. Whisk in more milk or stock, as needed. Remove from the heat and stir in 1 cup of the cheese and 2 tablespoons of the butter. Season to taste with salt and pepper.

In a large bowl, whisk together the eggs and season with salt. In a medium Skillet, melt the remaining tablespoon of butter over medium heat. When the butter is foamy, add the eggs and scramble, until just cooked.

Pour the eggs into the grits and stir to combine. Pour the grits and egg mixture over the sausage in the skillet and spread evenly.

Sprinkle the remaining 2 cups cheese over the top.

Bake the casserole until the cheese has formed a browned crust, about 45 minutes.

Meanwhile, heat the oil in a medium skillet over high heat. When the oil is hot, add the grape tomatoes and cook, stirring occasionally, until the tomatoes have blistered all over. Add the scallions and toss till wilted and blistered. Remove from the heat, mix in the vinegar and season to taste with salt and pepper.

Top the casserole with the tomato mixture and serve hot.
Recommended Products
As an Amazon Associate and member of other affiliate programs, I earn from qualifying purchases.