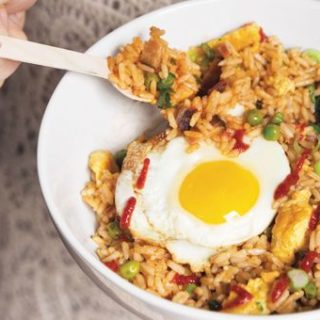 Breakfast Fried Rice
At some point all of us have had some leftover take out rice in the fridge. This Breakfast Fried Rice recipe is perhaps my absolute favorite way to make use of that leftover rice.
Ingredients
2 cups of cooked rice(cold)
1 tablespoon Peanut Oil
1 teaspoon Sesame Oil
2 tablespoons of Soy Sauce
3 strips of Cooked Bacon (crumbled)
1 Rib of Celery (sliced)
2 scallions (sliced)
3 Eggs
1/2 cup of Frozen Peas
Sriracha Sauce 
Ground White Pepper
Kosher Salt
Instructions
Heat a large Non stick skillet over Medium High Heat.
Stir fry the rice with the Peanut and Sesame oil until heated through and beginning to look fluffy.
Add in the soy sauce and stir quickly to combine.
Add in the Bacon, Celery, Scallions and season with Salt and ground White Pepper to taste.
Push the rice to the sides of the skillet and crack 1 egg in the center of the skillet. Quickly scramble the egg and once cooked, mix into the rice.
Divide rice into two bowls.
Fry the remaining 2 eggs in the skillet using more oil if necessary.
Place a fried egg on top of each rice bowl.
Squirt Sriracha over each bowl and serve.
Notes
This recipe is endlessly adaptable. Add or subtract ingredients as you please. I've made this with all sorts of different mixes. Just depends on whats in the fridge.