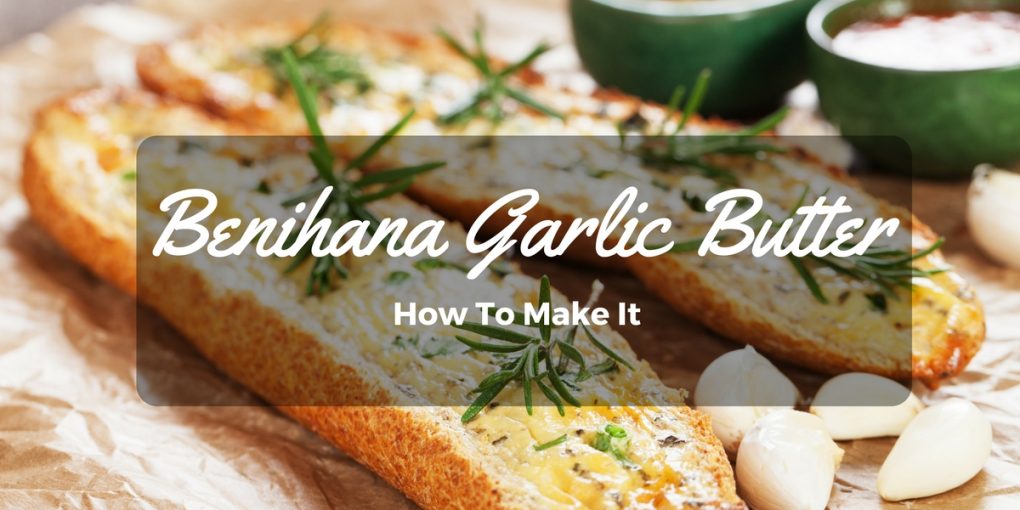 Benihana Garlic Butter: How To Make It
Garlic and butter are two of the most used ingredients around the world. Both of these ingredients possess great flavors that lots of dishes cannot do without. But have you ever wondered what would happen if you mix these two together?
The people at Benihana, a well-known Japanese restaurant has done a remarkable job at infusing these ingredients. One can't simply deny the tasteful flavors of Benihana Garlic Butter dishes. Their garlic butter can help turn any dish into a savory meal that anyone can certainly enjoy.
If you'd like to learn how to make Benihana garlic butter, I encourage you to read on because this article contains a simple how to guide that will take you through the step by step process of how to make it at home.
What Is Benihana?
For those of you who haven't been to, or heard of Benihana yet, it is one of the pioneering teppanyaki restaurants in America.
Benihana has become known for it's (used to be) unique teppanyaki cooking style. Teppanyaki cooking refers to the cooking style wherein the chefs prepare the food right in front of you with the use of a large griddle situated in the middle of the table.
I guess you could consider it as somewhat of a bar, but instead of bartenders pouring you drinks and whipping up cocktails before your eyes, you get to see a professional chef give you a nearly theatrical performance where food is being tossed, sliced, mixed, and cooked.
A teppanyaki dining experience is certainly like no other. It's a mix of entertainment and gastronomic wonders that you will surely never forget. Perhaps the only downside to teppanyaki restaurants is that they tend to be hot since the grill is right in front of you. But hey, trust me, you won't even notice the heat once you see the chef go hard on your food.
---
List Benihana Garlic That You Can Buy Now
1. Garlic Butter, Parmesan Basil, 10 Ounce (Pack of 2)
From the farms of Chef Shamy Gourmet comes this delicious, Parmesan basil flavored creamy garlic butter that is the perfect ingredient to top off any meal. Exploding with flavor, this butter will make your taste buds water. This butter is suitable for many diet needs because it is kosher, halal, gluten-free, oil-free, and made with real butter. It has a shelf life of up to 1 year unopened in the refrigerator, or 6 months opened in the refrigerator. It can even withstand being kept at room temperature for a few weeks. You won't be disappointed with Chef Shamy's garlic butter.
2. Saute Butter, Garlic Herb, 4.5 Ounce (Pack of 3)
Chef Shamy's saute butter is the perfect ingredient to give your meals that extra wow factor when you cook them. The butter is perfectly seasoned, meaning that you don't have to worry about seasoning foods as you saute them. The butter comes in three amazing flavors: garlic herb, lemon dill, and southwestern. These butters will enhance the flavors of your favorite meats. They also taste great drizzled over steamed vegetables. The possibilities are endless. Chef Shamy's saute butter is kosher, halal, gluten-free, and oil-free. They are made from 100% real butter and all-natural ingredients. Give Chef Shamy's saute butter a try!
3. California Garlic Grass-Fed Ghee Butter, 9 Ounce, Pasture Raised, Non-GMO, Lactose Free, Certified Paleo
Fourth & Heart's ghee butter is an all-natural, healthier alternative to traditional butter. It comes in five amazing, potent flavors and the taste rivals even the best butters on the market. This butter is suitable for almost any type of diet because it is lactose-free, dairy-free, casein-free, and gluten-free. It includes ingredients from grass-fed, hormone-free, and antibiotics-free cows. Ghee butter is made with garlic from California and is a good source of vitamins, omega-3 fatty acids, CLA and other beneficial ingredients. Ghee butter is a healthy and tasty choice for all of your foods that use butter as an ingredient.
4. King Kooker 96048 16-Ounce Garlic Butter With Herbs Injectable Marinade
King Kooker Injectable garlic butter marinade is great for giving your meats some delicious extra flavor as you cook them. It will keep your meat juicy and moist without an overpowering flavor. King Kooker Injectable garlic butter marinade is also great to use on different types of seafood as well. Infused with a garlic, buttery taste, people will savor the experience of your cooking, because King Kooker's marinade certainly makes any meal an experience. The marinade comes in a 16 ounce bottle. Use it with a King Kooker injector for some of the best tasting meat you will ever cook!
What Can You Make With Benihana Garlic Butter
Before I tell you all about how to make Benihana's garlic butter, please allow me to excite you with all the different kinds of dishes that you will be able to create once you manage to make a batch of Benihana garlic butter on your own.
One of the most sought after dishes in Benihana is their fried rice. The secret? Garlic Butter! Benihana's fried rice comes with their own garlic butter that just adds an extra oomph to the dish.
This means that you too can easily make a batch of fried rice at home that would taste just as great as the one in Benihana once you learn how to make garlic butter.
If you'd like to try to make some garlic butter fried rice at home, all you will need to do is mix a handful of bean sprouts, cooked rice, green onions, and some of that tasty garlic butter. You can even add an assortment of ingredients to your fried rice such as shrimp, pork, chicken, beef, crab, seaweed, eggs, and more.
One dish I personally love to make with Benihana garlic butter is plain old garlic bread. Trust me, you'd be surprised as to how tasty a single loaf of bread could be once you add some garlic butter to it. I could honestly finish one whole loaf by myself because the garlic butter just coats every part of the bread making the whole thing thoroughly absorb the flavors.
Now, these are just two dishes that I like to make with Benihana garlic butter. You can always feel free to explore around the kitchen and make different kinds of meals with garlic butter. Try it on salmon, steak, vegetables, sauces, or whatever you think might work with it. Go crazy!
---
Ingredients and Materials You Will Need
Are you all hyped up about this garlic butter recipe? If you are, I'm sure you'd be very delighted to know that you only need a handful of ingredients to make Benihana garlic butter.
Before we get into the steps, try to prepare these following ingredients that I have listed below:​
Butter
To make a small batch of Benihana garlic butter, you will need about half a cup of unsalted butter. Take note that you can probably use any kind of brand, but if you are looking to make something that will have a very close taste to Benihana garlic butter, I suggest you try and go with Wholesome Farms (Sysco) unsalted butter for best results.​
Lemon Juice
For and added zing and more freshness, you will need about two tablespoons of fresh lemon juice. When squeezing the juice out of a lemon, try to roll the lemon on its side while you gently push down on it before you slice it up. Doing so will help release the juices so that once you start squeezing, more juice will come out easily.​
Soy Sauce
Since we're going to use unsalted butter, the main source of salt will be from one teaspoon of good old soy sauce. You can get soy sauce from your local supermarket somewhere near the condiments aisle. Note that you can use any brand of soy sauce for this recipe.​
Garlic
The last ingredient you will need is 2 cloves of fresh garlic. When choosing garlic, try to go with one that comes with its skin still intact. Also, try to look for a piece of garlic that is firm or hard when you try to squeeze it. When a piece of garlic is firm and hard, it only means that it's completely fresh.​
Bowl
Try to get a large bowl that you can use to effectively mix all the ingredients I have mentioned above. You can use any type of bowl in your home as long as it's clean and large enough to accommodate all the ingredients listed in this article.​
If you have a stainless steel or ceramic bowl, I suggest you use that since it will be easier to clean than plastic ones. After all, you will be working with butter, an ingredient that's a bit hard to remove from plastic.​
​Spatula
The last thing you will need to make a fine batch of Benihana garlic butter is a nice spatula that you can use to mix all the ingredients. I recommend using a small plastic spatula that is somewhat flexible for efficient and effective mixing.​
Container
Unless you are planning on using up all the garlic butter you have made immediately, you will need a nice airtight container for a longer shelf life once you store your garlic butter. Try to use a container that does not leak flavors so that you'd be able to preserve the true taste of your garlic butter.​
---
Steps You Need To Follow
Now for the fun part. Even though you don't have Benihana's teppanyaki grills, this doesn't mean you can't whip up a nice batch of garlic butter right at your home.
Once you have prepared the ingredients and materials I have listed above, all you need to do is follow these simple steps:​
Step 1: Prepare The Materials
The first thing you will need to do is make sure that all of the materials you are using is completely clean and dry. Clean your bowl and spatula first with some dish soap, rinse it thoroughly in water, and dry it completely with a clean wash cloth.
Step 2: Prepare The Ingredients
Once you have cleansed all your materials, it's now time to prepare the ingredients.
For easy mixing, try to let your butter soften first by leaving it at room temperature for about 15 up to 30 minutes.
As you let your butter get softened, you should start squeezing your lemons and chopping your garlic cloves into tiny bits and pieces. That is unless you prefer to have large chunks of garlic in your butter.​
After preparing your ingredients and materials, what you have to do next is mix all the ingredients thoroughly in your bowl using your spatula.
Mix all the ingredients effectively by gently folding the butter towards the center of the bowl repeatedly until you end up with a mix that has an even color.​
Step 4: Store In The Fridge
Once all the ingredients have been mixed thoroughly with the butter all you have to do now is store it in the fridge.
You can also use the garlic butter immediately for cooking bread, meat, vegetables, fish, and poultry.
Your homemade garlic butter will be able to last for 3 weeks in the fridge. For added longevity, you should try storing it in an airtight container.
---
A Short Summary
Benihana's garlic butter is truly a delight. It can add more personality to different kinds of dishes including steaks, salmon, chicken, steamed vegetables, sauces, bread and more.
Remember, all you will need to make a fine batch of garlic butter is some unsalted butter, soy sauce, lemon juice, and fresh garlic.
If you have any questions about the article above, please do not refrain from leaving a comment on the box below. I'll try to get back to you as soon as I can, thank you and happy cooking!​