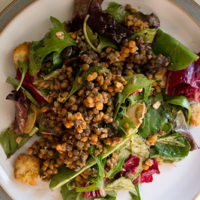 Lentil Protein Salad Recipe
Here is a super easy recipe and full of iron and protein! Perfect for a dinner on a green salad, as a snack or salad.
This is one of those salads that are simple, but good and at the same time, very appetizing, and that can be prepared with ingredients that we all have in our refrigerators and the vegetables in the season. It can be assembled in no time and is eaten just as quickly ... a significant advantage in case you have a very short lunch break ... and represents a fairly complete meal. Rather rich in vegetable protein, it does not necessarily need to be accompanied by bread or other sources of carbohydrates.
Ingredients
1 lb. brown lentils
1 dried bay leaf
5 cups of water
2 tbsp. of olive oil
1 onion
1 pepper
1 zucchini
2 cups baby fresh spinach
1 cup plain soya yogurt
1 tbsp. Dijon mustard
Salt pepper to taste
Instructions
Step 1
Preheat oven to 375 ° F. In a bowl, combine onion, pepper and zucchini cubes with half the olive oil, salt and pepper. Spread on baking sheet and bake for 10 to 16 minutes until tender. Put aside.
Step 2
The cooking of the lentils does not require prior soaking. Rinse them quickly in cold water and place them in a saucepan with 3 times their volume of cold unsalted water. Bring to a boil and cook covered for 20 to 25 minutes. Taste, drain and remove the bay leaf.
Step 3
If you do not digest the lentils well, blanch them by first immersing them in boiling water before cooking as directed.
Step 4
In large bowl, combine lentil, yogurt, Dijon mustard and the remaining olive oil. Salt and pepper.
Step 5
Add spinach, mix well and enjoy!
Nutrition Information:
Yield:

4
Serving Size:

1
Amount Per Serving:
Calories:

254
Total Fat:

9g
Saturated Fat:

2g
Trans Fat:

0g
Unsaturated Fat:

6g
Cholesterol:

3mg
Sodium:

315mg
Carbohydrates:

32g
Fiber:

11g
Sugar:

8g
Protein:

15g