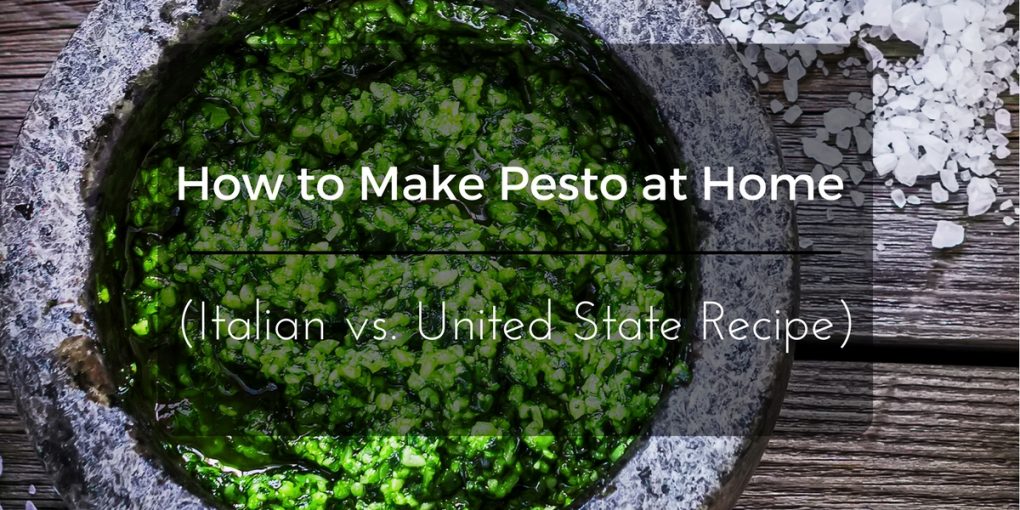 How to Make Pesto at Home (Italian vs. United State Recipe)
Martin Scorsese once asked "If your mother cooks Italian food, why should you go to a restaurant", and it is a pretty reasonable question. There is more to add to it, though: If you know how to prepare your own pesto, why would you buy it in a supermarket?
Without any doubt, pesto is one of the world's most beloved sauces, and if Italians started a war for world domination with nothing in their hands but this aromatic wonder, we would all surrender to its charms without putting up a fight.
Now if you want to be a master in the skill of making pesto, instead of a humble servant purchasing an already made product in a jar, read this comprehensive guide so you can later share your wisdom with your friends and family.
The Pesto Story (How It All Begun)
Pesto, how we know it, originated in Genoa in northern Italy (region Liguria), but even the ancient Romans ate a paste similar to this sauce that was prepared by crushing herbs, garlic and cheese together, called moretum.
From the time it was first invented, it was always prepared with crushed basil and pine nuts and Parmigiano Reggiano cheese and olive oil. The very word comes from the Italian word pestare which means to crush or to pound because the Italians prepare it by using mortar and pestle (originally marble mortar and wooden pestle).
But how did this wonderful sauce found its way here in the U.S.? It is thanks to the crews of mercantile ships which traveled from the port Genoa to various destinations. Finally, pesto found its home in Argentina, from where it spread out to the ports of the U.S. after World War II. However, pesto experienced the biggest peak of popularity in the New World during the '90s when Frank Sinatra commercialized this sauce with his face on the label.He definitely did it his way.
And that was the magical story about pesto's long trip to our satisfied taste buds. Now, it is time to see did we stay true to its origins or have we failed it by turning to quick and easy solutions. What do you think?
Differences between Italian Recipe and United States Recipe
Sadly, the answer to the question from the previous paragraph is that we have altered this wonderful recipe by turning to simpler methods of preparation.
Most of the pesto we encounter here in the U.S. is different for a few reasons. First of all, the recipe for pesto in the U.S. usually includes using a machine (a food processor or hand blender), even if it is homemade.
Don't get me wrong, it usually tastes good, but because the ingredients aren't hand chopped you end up with a texture that is more like a moist paste, and there is little to no definition between ingredients. Also, there is more than one way how blending pesto into puree instead of a textured sauce changes the very essence of this dish, but more about that later.
Chopping all the ingredients by hand then pounding them with circular motions with a pestle in the mortar, and not blending them is the key for a proper Italian pesto because this prevents the sauce turning into a homogenized emulsion or paste.
When you dress pasta with pesto that has been hand chopped the minuscule flecks of basil will separate from the olive oil in places; you get the definition between ingredients, and bright flavors pop in a way they wouldn't if they had been blended into one paste.
Pesto Alla Genovese vs. U.S. Pesto
Pesto purists would tell you that the only real pesto is the Genovese one. This is the recipe we describe as a cold sauce, and not salsa because it is not cooked. It is famous for its unique texture which is quite dense and homogeneous, due to the richness of ingredients, which become denser with the addition of olive oil.
One more thing that makes the Genovese pesto so special is the basil. You see, the seaside soil in Genoa is very mineral-rich and the mild climate of Liguria is perfect for growing basil. Genovese basil has that special sweet taste, and it is one of the most beloved basils in culinary use.
The most specific feature of this pesto is its smell, and you could really recognize it with your eyes closed by the strong garlicky note and inebriant scents of basil and cheese. The taste doesn't fall behind the fascinating scents, and it is equally as impressive. What gives the original pesto such a distinct flavor that is impossible to replicate is the Genovese basil which is picked young. While the basil adds some sweetness to it, PDO cheeses add a spicy note, especially typical for Pecorino.
One very important difference between what Italians call pesto and what non-Italians think of this sauce is that the traditional pesto is made by using mortar and pestle, while the "modern" version which is the embodiment of today's hasty life pace is made in a food processor.
If you would try these two versions comparatively, you would instantly notice that the mortar and pestle sauce has pieces of basil of different sizes, with tender, yet assertive texture. On the other hand, the pesto made with a food processor consists of uniform little bits, and the flavors of different ingredients are mixed up.
This difference is especially noticeable when you use these sauces on pasta. The green color of the mortar-and-pestle sauce is much more present, and it coats the pasta beautifully, while the food-processor-made sauce rather sticks to pasta in small pieces.
A Few Differences Between The Traditional (Genovese) and Modern (U.S.) Pesto
Now you probably have some sort of idea between these two types of pesto, but just in case, here are a few points of dispute you should have in mind:
The 10 Best Recipe to Make Pesto at Home
By now you have probably figured out why it is better to use the Italian technique to prepare pesto. Sure, you will have to invest more time and attention into the preparation, but eventually, the effort will prove to be quite rewarding.
When making pesto the Italian way, there are few things you should remember:
Tips from Professionals
Making pesto is not a joke, and although the fantastic ingredients are there to ensure that no matter what you do wrong, the taste is still great, there is always a place for improvements, and who is better to teach you than the best professionals out there? So go through their tips and prepare to stand shoulder to shoulder with them proudly.
All of these tips can sound a bit contradictory, but it is up to you to go through them all, and see which ones suit your own method of preparing pesto, and which one yield the best results for you. If you would take my advice though, I would always recommend that, at least for your first try in preparing this sauce, you should stick to the most traditional method there is. Leave the experimenting for the time when you're more experienced.
Pesto – Common Mistakes​
We all make mistakes, and even if you have prepared pesto so often by now that you can make it while sleepwalking, you can still stumble on some things you haven't predicted. To avoid that from happening here are the most common mistakes that can happen when making this sauce, and tips on how to avoid them:
1. Using Dried Herbs
This is a rookie mistake, but I have to mention it since some people believe that dried herbs are better because they can be kept longer than fresh. Although there is some reasoning behind this, it is nowhere near as possible to prepare pesto with dried herbs. To be honest, a jar of pesto won't last you until the expiration date, because it's too delicious not to eat it right away. Fresh herbs are essential for successful pesto, and dried can come nowhere near their texture and flavor.
2. Using Only Basil
Basil is, as I've already mentioned, the protagonist of pesto, but every great movie needs supporting cast as well. Other leafy greens and herbs can only improve the taste and the color of pesto, especially when used in smaller amounts that don't allow them to overshadow the taste of your star herb. However, don't get carried away and throw in everything from parsley to kale. Decide for one or two herbs or leafy greens.
3. Not Washing The Ingredients Properly
You can be earth-lover all you want, but you can't love the gravelly texture of pesto. It is simply wrong. All the ingredients must be properly washed and patted dry before incorporated into the sauce so that it can receive the best texture from each of it, rather than an extra ingredient of dirt.
4. Overdoing On Garlic
I get it, you like garlic. Who doesn't? But garlic has an overpowering taste and aroma, and if you overdo it, it will ruin the balance of flavors pesto is so famous for. Sure, vampires might be repelled by it, but so will all around you. Normally, an average pesto should contain one or two cloves of garlic of average size, but the most ideal measure is one and a half. If you, on the other side, prefer a more delicate taste, you can ditch the garlic entirely and turn to wild garlic as Danny from Food Urchin.
5. Letting The Food Processor Do All The Work
So, you have probably figured out that I have a lot to say about using the food processor for making pesto, but in all honesty, it is completely justified move if you are in a hurry. However, nothing can justify the overuse of food processor in this case. Do your best to at least chop some of the ingredients before throwing them into the machine. Every decent knife set will have a good chef's knife to do this part of the job, so you have no excuse.
6. Pureeing The Pesto
Another bad thing with the food processor (as if there weren't enough of those) is that people often get carried away and end up pureeing their pesto. What's wrong with that, you might ask. Well, after a short time you will notice discoloration in the pesto, and it will not have the rich texture it should. So, instead of pureeing, pulse it two or three times and turn the processor off while the sauce is still a bit rough.
7. Using Too Little Olive Oil
Some people are trying to make everything low-fat, and while it is perfectly reasonable to try to live a healthy life and eat low-fat food, pesto isn't about the restraint, it is about enjoying life in all its beauty, so don't refrain from using plenty of olive oil and cheese. They provide it with a creamy texture and magnificent taste, so don't take that away from it – you only live once.
8. Including Any Cheese
No, any cheese won't do. If you have a creamy fresh cheese in your fridge and think that it is a good ingredient for your pesto, think again. Pesto must be chunky and not universally smooth. To achieve that, you have to use hard, salty aged cheese because it is one of the reasons why it ends up with such a recognizable texture.
9. Not Roasting The Nuts
Sure, you will read in some recipes (some traditional Italian often) that the nuts should be included in the mixture completely raw, but here's the thing (with all respect to Italian tradition): roasted nuts can give tons of flavors to the sauce and add a bit of crunchiness to its texture. Just make sure you cool them off before using them in a pesto unless you want to get a gummy paste instead off crispy texture.
10. Storing It on The Counter
Do you want brown pesto? Because that's how you get brown pesto. Pesto doesn't have enough acid to keep the beautifully green color at a room temperature. If you want to avoid the unsightly brown shade, cover the pesto with a plastic wrap and refrigerate until you're ready to use it, but I consider eating it straight away the best way to store it. All jokes aside, refrigerated pesto will be good for five to seven days, but it can also be stored in the freezer for three to four months. However, you must know how to freeze it properly. It must be poured into a sealed container, and the surface of the sauce should be covered with a layer of olive oil.
Some of these mistakes are obvious even for pesto "amateurs," while others are a tricky terrain. However, if there is one thing they have in common – they're unforgivable in the world of perfect pesto.
15 Great Ways to Use Pesto
If you're anything like me, you could eat pesto alone with a spoon as a meal, but there are many other great ways to use this flavorful sauce, and it would be a shame to miss out on them. Its creamy yet crunchy texture can be an ideal addition to many traditional dishes, and while some ideas are so silly that I'd never remember to try them, some are so logical that I can't forgive myself for haven't thought of them before.
If you are unfamiliar with them, read on to get some great ideas.​
There Is No Doubt That Pesto Is a Serious Sauce That Should Be Taken Seriously
When some dish has such a long history and meaningful origin it is important to approach it with respect, and learn whatever you can about it before you move on to preparation. Only then can you dare to experiment with different methods and applications. But once you master it, you will never need to buy it in jars in the supermarket, because you'll become the master of pesto, and that is not a small thing.​
Resources and Further Reading: