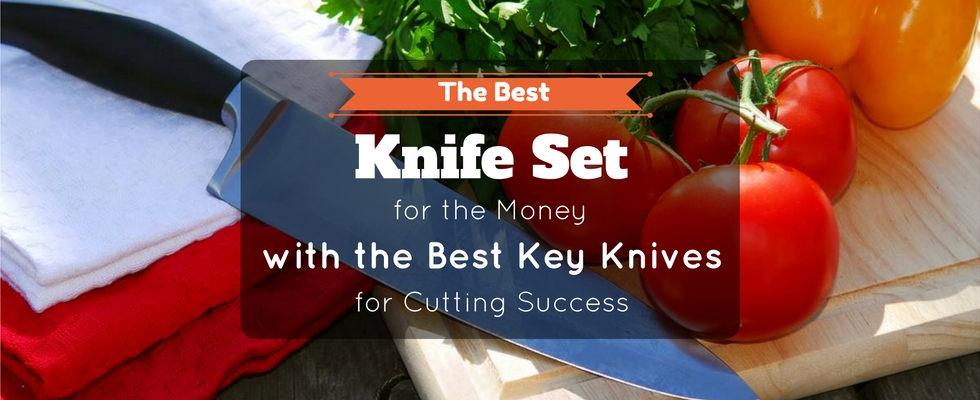 Finding the Best Knife Set for the Money With the Best Key Knives for Cutting Success
The knife is the most important tool in the cooking process, and you owe it to yourself to try and find the best knife set for the money. No matter where I go, if I am doing the cooking, I bring my knife kit along. They have become part of me, and I treat them with the utmost respect. I am protective and caring when it comes to my knives. They helped me survive for years when I was spending 60 hours a week in a kitchen.
I made sure to find the best knife set I could for the money I was able to spend because it made cooking easier. A good knife makes cooking safer, makes you a more efficient cook and an extremely sharp knife is much safer than a dull one.
Dull, poorly maintained knives force cuts, which will slip and produce nasty injuries. Before I get into the knives you want to try to look for in a knife set, I have to reemphasize that once you find the best knife set for you, learn how to properly care for them.
---
The 5 Best Knife Sets For the Money Chart
Finding the Best Knife Set
The Knives You Will Hopefully Find in a Moderately Priced Set
There are nine knives I would prefer to have in a complete set. Anyone spending less than $200 probably will not be able to get all of them. That is okay. There are some you absolutely have to have, and any knives missing from this list can be bought separately.
The Chef's knife
This is the main knife and the king. You will use this knife more than any other, and if there are knife sets without a chef's knife, do not even look at them. They come in different sizes. I have seen some as small as four inches and as large as a foot long.
Eight inches is the most common size, and it is the easiest to control and cut with in my opinion. It's used to slice vegetables, chop them, crack bones in meat and to cut the knuckles in half on chicken bones. It is a must-have knife.
Santoku
This is the Japanese chef's knife, and it is useful. It translates into "three benefits". The blade design is great for vegetable work, specifically slicing, mincing and dicing. The design helps prevent the vegetables from sticking to the knife.
Its shape also allows it the ability to do some minor cleaver work. Hopefully you can find a set with this knife in it too.
Two Fillet Knives
One of the fillet knives is for meat like beef and pork. It is straight and does not bend. It is designed to trim fat off of meat. The other fillet knife is a fish fillet knife. It curves slightly, and it is very bendy and flexible to prevent the flesh on the fish from being torn up.
Bread Knife
Using a serrated bread knife to slice bread is much better for appearance than using your chef's knife. The serrated long knife keeps the bread from looking mangled because you are sawing through it.
Boning Knife
A boning knife goes well with the firmer fillet knife. It is especially useful when cutting through joints and tendons. A cook can save a lot of money by purchasing whole chickens or larger cuts of meat, fabricating them with a boning or utility knife and trimming them with a fillet knife.
Paring Knife
These knives are a must have for any knife set. They are made to trim and work on fruits and vegetables. You might even get some use out of them if you do amateur vegetable carvings, and they are indispensable for garnish production.
Serrated Slicer
Serrated slicers work well for certain types of meat, and believe it or not, soft fruits and vegetables. The slice right through thick cuts of meat evenly, and they are helpful in producing evenly slices of soft fruits and vegetables like tomatoes.
Offset Knife
This is another serrated knife. It can be used to cut through breads and used for any other purpose serrated knives are used for, but it is much more handy with smaller things like sandwiches. One of the most useful aspects of the offset knife is its added safety because of the knuckle clearance it offers.
Honing Steel
This is not really a knife, but you have to have one to care for them. Most sets will provide one. Honing steels are often mistaken with knife sharpeners. You should hone your knives before every use and after you clean them. It keeps the edges even and true, which often makes knives appear sharper after they have been honed. It is absolutely necessary to have this in a set for knife maintenance.
---
Presentation of the Five Best Knife Sets for the Money
I am of the opinion that if you spend less than $ or even $$ on a knife set with more than 10 knives in it, you are probably going to have a set of glorified butter knives after five or six years.
Ideally, as I mentioned before, you want at least 10 key knives in your set to perform the most essential tasks. Anything more in a set, such as carving knives, peelers or poultry sheers is a nice bonus.
I have picked out five knife sets I think are ideal for a home kitchen where the cook or cooks prepare daily meals. I plan on listing the name of the knife set, the price and the pros and cons. I am also going to list some of the contents and information on the knives of the set because you need to match it with the information and recommendations I made above.
In my conclusion, I will give you my favorite pick out of the five. This is an important purchase, so here are my top five best knife sets for the money:
This knife set can be purchased both used and new online. The used price for a set like this is around $ and you can order it new for about a $$.
It has everything an essential knife set should contain that I mentioned above with the exception of the santoku, which is still finding its place among the essentials kits.
The knife blades are extremely sharp and made out of high-carbon stainless steel. The high-carbon stainless still will undoubtedly help maintain the sharpness.
The red handles of the knife are contoured and made for comfort when cutting. These knives can only be washed by hand.
---
Pros
12 pieces allows for duplicates
Stainless steel high-carbon technology
Low maintenance due to the quality blades
Handles made for comfort in extended kitchen work
Includes poultry shears
Cons
No Santoku included
No offset knife included
​Handles are candy apple red so will not go with color schemes of some kitchens
Used prices are too attractive when knives should be bought new
Easily ruined in a dishwasher because they require a careful hand wash
---
First, Calphalon is a culinary dynasty. It was the first to develop hard anodized cookware, which has been successful for 50 years, and their knives are just as impressive.
A 15 piece set is a pricey $$, but you can get a 12 piece set for $$. Depending on how often you cook steak and how many dinner guests need steak knives, I would probably go with the 12 piece.
The steak knives are stamped steel, but the cutlery is forged. The knives are quality stainless steel and high-carbon. The real selling piece on this item are the ceramic knife sharpeners built into the knife block. You are literally sharpening your knives after you clean them and put them back in the block.
Aside from the steak knives and poultry sheers, the set includes an eight inch chef and bread knife, seven inch santoku, three and a half inch paring knife and a six inch utility knife.
---
Pros
Contains almost all essential knives listed above
Handles are triple riveted for strength
Handles are designed for maximum grip
Set comes with a full lifetime warranty
Cons
The cost for 15 versus 12 is unbalanced considering it is just for steak knives
No boning knife, which is disappointing
​No offset knife, which is not a huge loss but surprising because of Calphalon's reputation for being thorough
---
This set retails for about $$, and even though I do think it is a decent buy, it is probably my least favorite set. It is a 13 knife set with half of them being steak knives. The knives are well built though from quality stainless steel.
Aside from the steak knives, the set includes the all-important chef's knife, serrated utility knife, hollow edge santoku, a paring knife and a sharpening steel. The handles are triple-riveted and contoured for a strong grip.
---
Pros
Like the serrated utility because I consider it both the bread knife and the offset
Manufacture stands by the knives and offer a lifetime warranty
Set includes poultry sheers
Cons
No standard fillet knife for meat
No flexible fish fillet knife
---
The product runs about $$ online. This KitchenAid set comes with knives that claim to have an extremely sharp edge from the high-carbon stainless steel used to forge them.
The set of essentials includes an eight inch slicing knife (utility or boning), eight inch chefs knife, a santoku, edging steel and a five and a half inch serrated utility knife, which I have become fond of because it can serve as a two-in-one for essential knives.
The knives are light and balanced to give the user accuracy and precision while cutting. The handles are triple riveted, so a firm comfortable grip should be no problem.
---
Pros
Black handles to go with any kitchen
Although it does not include all of my essential list, it fulfills important requirements
Light knives with good grips provide better cuts
Cons
Advised to wash and dry immediately so likely prone to quick rusting
No fillet knife
​No flexible fillet knife
Steak knife filler to up the price instead of filling it with more useful knives
All-purpose serrated knife is too short making it not as practical
---
Wusthof is a name professional chefs associate with greatness, and it is our dream to own an expensive professional set. This set was made for the regular home cook and retails at $$ online.
It is manufactured in Germany, and they were able to make the knives extremely light and sharp. They are so light some people even find it to be a negative. The blades are tempered, and are made with riveted synthetic polypropylene for long-lasting use.
It is a a 12 piece set with only four steak knives and poultry sheers. The rest are from the essential list I described above. This your chance to bring Wusthof into your kitchen without spending over $$.
---
Pros
Sharpest blades for the lightest weight for a home kitchen knife set
The brand Wusthof is considered a pro by itself
The handles last forever providing a strong knife on light, sharp blades to prevent accidents
Cons
Do not confuse them with Wusthof classic because they are not the same caliber
Unlike professional Wusthoff blades, the blades do not extend through the bottom of the handle
​Blades are not as durable as the handles with only a limited lifetime warranty
Struggling with the price being for quality, the name brand or a little of both but definitely not just quality
---
My Favorite Knife Set for the Money
When I was researching knife sets containing at least 10 pieces for the price of at least $100 but no more than $200 and saw a Wusthoff set, I was sure it was going to be my pick. It is not. If I had to recommend a set to someone I liked who enjoyed cooking, it would definitely be the Calphalon Classic Self-Sharpening 15-pc. Cutlery Knife Block Set, but I would probably tell them to grab the 12 piece set unless they did a lot of entertaining.
There are far too many pros, and Calphalon has been producing winning products for 50 years. This knife set is no different. The one thing that disappoints me about every set here I reviewed is the lack of a fillet and fish fillet knife. Most had utility knives, and they will do in a pinch. I guess I am still talking from the point of view of a professional chef though. Again, the best knife set for the money is Calphalon.