The Best Pellet Smoker (2019): See Our Expert Picks

Wondering how you can enjoy a deliciously smoked barbecue without constantly monitoring the grill and dealing with difficult clean up? Pellet smokers are the answer. But with so many different pellet smoker models taking over campsites and patios, you may wonder which pellet smoker is the best choice for your unique needs and BBQ preferences. That's where we come in – whether you're looking for a pellet grill for your famous garden parties or are in need of a cooker to lug around on your next camping adventure, you've come to the right place.
To help you find the best pellet smoker for your needs, we have researched the market, selected the best models, and reviewed them in detail, bringing you a step closer to the right decision. Amongst our reviews, you can find models that are small and portable or large and sturdy, pricey and luxurious or cheap and simple – in a word, you can definitely find what you need.
Make sure to read on to our buying guide at the end, where we go over the important factors that you should keep in mind when choosing the best pellet smoker for your next barbecue.
Quick Comparison: Top Pellet Smokers 2019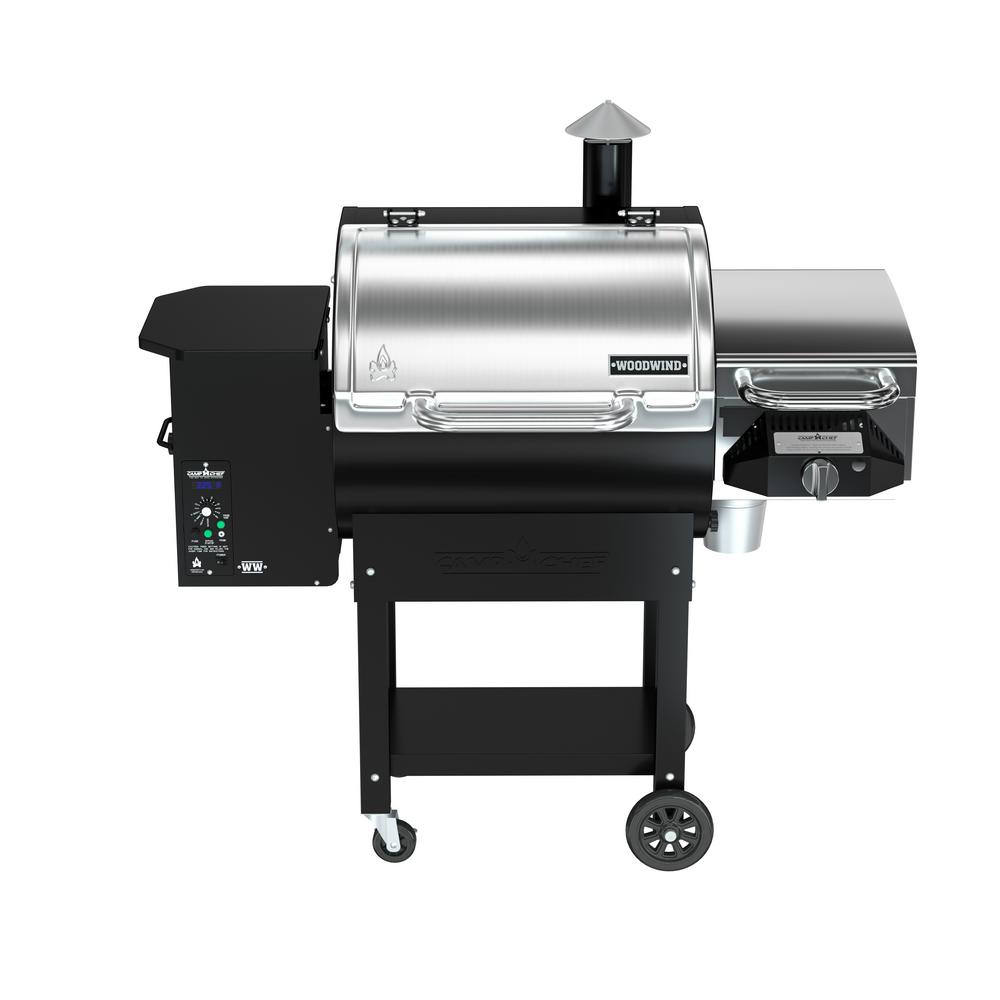 The Camp Chef Woodwind Pellet Grill takes the cake on this list because it's incredibly versatile and user-friendly, offers elevated taste, and requires the simplest clean-up. The smart smoke technology featured on the Camp Chef will allow you to relax on your patio chair and knock back a beer, while the grill does the work for you. If you enjoy cooking your BBQ in various styles, you are sure to love this pellet grill.
Pros:
One of the best things about this pellet grill is that you won't have to babysit your food. This model features digital temperature control, which you can set to your liking, and let the Camp Chef do the rest. The automatic auger on the Camp Chef feeds pellets into the grill, maintaining the heat and the right amount of smoke using the smart smoke technology to control the smoke levels.
The Camp Chef allows you to cook your food any way you like, and it makes it taste better, too! This pellet grill allows you to grill, smoke, bake, roast, braise, and barbecue your favorite food items (from meat to vegetables), and even features a sear box, which reaches up to 900 degrees Fahrenheit, where you can stick your food for a perfectly crisp finish. The temperature range of the grill itself is 160 to 500 degrees Fahrenheit. The wooden pellets add that unmistakable wood-fire taste that you love in a barbecue.
This model is also a great choice for large groups of friends and family. The Camp Chef comes with 811 square inches of cooking surface and a removable upper warming rack, which will allow you to feed a whole lot of people.
Another great thing about the Camp Chef is that it's super easy to clean. The Patented Ash Cleanout will allow you to pull a lever and get rid of the ash without needing to vacuum.
Cons:
While the Camp Chef comes with a lot of great innovations, we have some reservations about their quality control. Customers have complained that some of the additional parts are a bit flimsy, and may need replacement after a while.
Another issue is that the Camp Chef leaks smoke not just from the chimney, but also from the lid and the cleanup cup, so that you may have to get a gasket for the lid to prevent this.
In addition to being the best choice for large barbecue parties, the Rec Tec Bull features excellent performance and a high-quality durable build. Although this product is a bit pricey, it offers great value for the money. If you enjoy doing BBQ with big groups of friends and family, this grill is the best choice for you.
Pros:
The Bull is the best grill for parties because it offers the optimal space to feed everyone! Its height will allow you to cook turkeys and beer can chickens, while the 1054 square inches of cooking surface, and the adjustable large second shelf, will allow you to cook enough food for the entire neighborhood.
Although it's not the most budget-friendly option on this list, it offers great value for your money. Its durability and high capacity make it the best pellet grill model in its price range.
The Bull has a very durable build. The sturdy and solid stainless steel construction ensures that there's nothing flimsy about this product. It's backed by a 6-year warranty, one of the best warranties offered on the market.
The solid constructions will also add to your user experience. The stainless steel cooking chamber ensures that no paint will crack or peel off into your food, and at the same time it makes clean up easy.
The Bull also comes with versatile and innovative features that make cooking fun and simple. This grill offers Smart Grill Technology which will allow you to set and control the temperature both on the body of the device and using a phone app! You can connect the Bull to the Rec Tec Grills App on your Android or Apple, and control the cooking remotely. Additionally, this spacious grill will allow you to bake, smoke, sear, grill, broil, roast and dehydrate your food, while the dual meat probes make it easy to cook and monitor two different meals at the same time.
This product also comes in a bundle with several additional products, which will add value for your money. These include a front folding shelf, 160 lbs of blend pellets, and a durable grill cover.
Cons:
There are mixed reviews concerning the smoke output on the Bull: some customers have claimed that it's plenty, while others have complained that it's not enough.
Keep in mind that this grill is quite large and heavy, so it's not a great choice if you want something that's easily portable.
If you're on a tight budget, The Z Grills ZPG-7002E Wood Pellet Grill & Smoker is the best pellet grill for you. We like this product because it offers versatility, durability and a decent capacity – all for a highly affordable price.
Pros:
The Z Grills allows you to cook your food in a variety of ways. It features fan-run convection cooking, which allows you to grill, smoke, bake, roast, sear, braise, smoke, barbeque or char-grill your food, while the wood pellets that it uses give it that wonderful wood-smoke taste.
This pellet grill also comes with a digital control board, which allows you to control the pellet feed and the temperature (which you can set between 180 to 450 degrees Fahrenheit). This will allow you to set up the grill, and enjoy the company of your friends, while the grill does the work for you.
Another cool thing about this grill is that although it's affordable, it has a decent cooking capacity. The Z Grills comes with 700 square inches of cooking surface, so that you can comfortably host a BBQ get-together for your friends and family.
The Z Grill is quite a durable choice. It comes with a 3-year warranty, which is the best on the market for products in this price range.
Lastly, this grill is easy to use and easy to maintain. The digital control board will allow you to adjust the temperature as you wish. It also comes with an upgraded cart with locking caster wheels, which will make transportation easy. The featured waste oil collector makes clean-up simple.
Cons:
Removing the unused pellets may prove to be a bit challenging if you were to decide to change the type of pellets that you use.
Additionally, some customers had issues with the temperature control on this unit, but a 2019 update seems to have addressed this problem.
Our favorite portable grill is the Green Mountain Grills Davy Crockett Pellet Grill, thanks to its low price tag, light weight, and versatility. You can control the temperature on the Davy Crockett using a phone app, which will allow you to dreamily pick wild berries and cook your food at the same time. If you enjoy tailgating, picnicking, or camping, we're pretty sure that you'll love this grill.
Pros:
This pellet grill is light and foldable, making it the best portable grill option on the market. It weighs about 57 pounds, and the foldable legs can double as handles. Its compact size allows it to fit into the trunk of any car. It has three power options and two power adaptors, which make it suitable for the limited conditions of the great outdoors. This grill is a great choice if you enjoy camping, tailgating, or going to music festivals.
The Green Mountain is also quite technologically versatile. It features a Sense-Mate, a thermal sensor which monitors the temperature of the grill, as well as a digital WiFi controller, which you can monitor through a phone app. This will allow you to control the temperature of our grill remotely. 
Although it's quite compact, the design of the Davy Crockett makes the best of its size. It has a meat probe, a peaked lid for large food items (an entire chicken or other large fowl), rib racks, and a convenience tray featuring utensil hooks.
The Davy Crockett is one of the most affordable options on this list. For a price below $340, you can get a durable portable grill that will serve you for years to come. Although the warranty on this product is two years, satisfied customers have reported that it has served them loyally for much longer.
Cons:
The temperature control on this product isn't great. There are some hotspots on the grill which can overcook and burn your food, so it may not be the best choice for smoked meat or long cooking.
Additionally, the company seems to have questionable quality control and poor customer service.
Conclusion
Our top overall pick is the Camp Chef Woodwind Pellet Grill with Sear Box. This model is versatile, easy to use, and has a high cooking capacity. The searing function allows for the perfect finish on your roast. If you're a big fan of barbecue, this model is going to be lots of fun to use!
Another exceptional model, which comes at a steeper price but also has a larger cooking surface, is the REC TEC Grills Bull RT-700. This model is very easy to use thanks to the phone app that you can download to control the heat settings. It's also our most durable recommendation due to its 6-year warranty and stainless steel construction. If you're looking for a large pellet grill, where you can cook multiple things at once, you will love this product!
On the other hand, if you want something more affordable, go for the Z Grills ZPG-7002E Wood Pellet Grill & Smoker. This product offers great value for your money, as you can use multiple cooking styles and control the heat and smoke through a digital board. The 3-year warranty additionally makes this option a great budget-friendly choice.
The second very affordable option on our list is the Green Mountain Grills Davy Crockett Pellet Grill. This grill is light and easily foldable – you can easily stick it in the trunk of your car and head for your next nature adventure. If you enjoy camping, music festivals, or tailgating, this product is a great choice for you. The fact that you can control the heat remotely adds value for your money.
Buying Guide
There are a lot of things to consider when shopping for a pellet smoker. Here are some of the most important factors we think you should keep in mind when choosing the best pellet smoker!
Size and Application
Think over your BBQ preferences. Do you usually only cook for a few people, or do you love firing up the grill for a party? If you enjoy barbecuing for large groups of your friends, family, and neighbors, try to choose a grill that has the cooking capacity to feed all those people quickly!
On the other hand, consider what setting you need your new pellet grill for. There are options that are light and portable, which makes them suitable for camping, and options that are large and heavy, which makes them a good choice for hosting guests at your home.
Budget
Our recommended products vary in price, ranging from as high as $1500 to as low as $350. Consider what your budget is to make choosing easier. Keep in mind, however, that more expensive pellet grills are also generally larger and more durable.
Durability
High-quality construction and a good warranty can give you confidence in your new purchase. Try to choose a model that has both! Keep in mind, however, that longer warranties come at steeper prices.
What's Next?
Hopefully, you found our review and buying guide for the best pellet smoker in finding the best model for your next cook-out! To get more information about each of our recommended products, follow the title links to learn their price, in-depth specifications, and customer reviews.
In the meantime, make sure to visit our homepage at warmchef.com to find links to our latest buying guides, featured reviews, and fun blog posts. You can also swing by our contact page to drop us a line if you have questions, comments, or any other feedback for us.