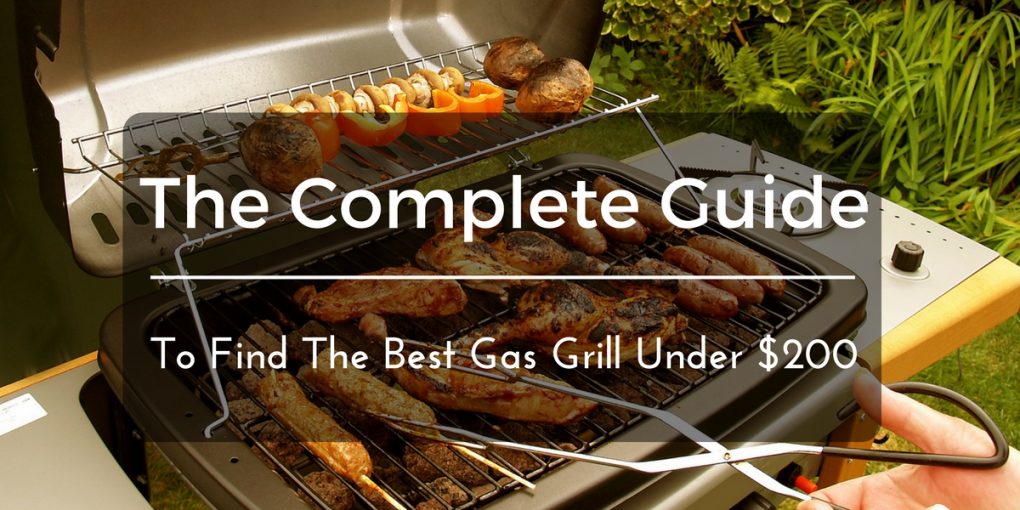 The Complete Guide On How To Find The Best Gas Grill Under $200
Don't you just love barbecuing outdoors? Even if it is not the 4th of July, having a fun time making some hot dogs, burgers, or steaks outdoors with a couple pints of beers in hand just does not get old. However, if your yard currently lacks a fine grill, there's just no other way to fulfill a barbecue party whenever you want to.
If you are so done with going to barbecue parties and you feel like hosting one yourself, but you don't have your own gas grill, don't fret. In this article, I will be sharing with you a complete guide on how to get the best gas grill under $200. Read on and find out how!
Quick Comparison: Top Best Gas Grills Under $200 2018
**Below, you'll find our more detailed reviews, but you can also click the links above to see current prices or read customer reviews on Amazon.
---
The Complete Guide on How to Find The Best Gas Grill
Why You Should Get A Gas Grill
Unless you are willing to chuck large pieces of wood and cook food over a make shift grill, you're going to have to get yourself a fine gas grill.
Gas grills are great for cooking all sorts of food including vegetables, large chunks of meat, poultry, fish, steaks, you name it. What's great about gas grills is the marks that you get on your food that makes it look just a tad bit more appealing to eat. Have you ever seen a nice slab of steak that has crossed grill marks on its surface? Don't you agree that it looks so much more mouthwatering than pan seared ones?
Aside from the aesthetics that only a grill can inflict on your food, gas grills also heat up a lot faster than other types of grills. This means if you are currently hosting a party for plenty of people, your guests would end up being hungry waiting for their food.
---
Types Of Outdoor Grills
Before we get into which gas grills you should check out, let us first discuss the different types of outdoor grills you will be able to choose from in the market today.​
Gas Grills
Gas grills are probably the most common type of outdoor grill that you will find in the market today. These types of grills often run on natural gas from your provider or on propane bottles. However, even though gas grills can run on both gas sources, most that you will find today run on propane, but can easily be converted into natural gas.
Gas grills are ideal for cooks who are always in a rush. Since the gas can provide you with instant fire, you will be able to heat up your grill within a short amount of time. These types of grills are also very easy to clean, unlike ones that run on charcoal.
Perhaps the only downside to gas grills is its lack of flavoring. Since gas grills run on gas, the food you cook in it doesn't get a smoky or woody flavor that you can get from charcoal type grills. What's more is that these grills tend to be a whole lot more expensive than the more practical, charcoal grill.​
Charcoal Grills
As its name suggests, charcoal grills run on charcoal or wood chips. Charcoal grills have its fair share of advantages and disadvantages. One of its most sought after advantages is that it gives your food a smoky and woody flavor (if you are using wooden chips) that you cannot get from other grills.
This type of grill is ideal for old-school purists who crave for the smoky barbecue taste. This is not a grill for people who are not willing to wait. If you haven't tried using a charcoal grill before, you should know that it's pretty hard to start up. Getting a bunch of coal to catch fire will require you a lot of effort and time, especially if you are a beginner.
Charcoal grills also require a lot of culinary experience. Since charcoal is a very volatile material, you will have to be very skilled in measuring the temperature that it gives out. You would also have to know how to organize your grilling surface according to the heat levels of your burning charcoal. Needless to say, the charcoal grill is a great tool that can give you great food, but only if you have the skill.​
Electric Grills
Electric grills require no gas or charcoal. It runs solely on electricity, allowing you to cook food on grill plates that get heated up by the electric current.
You will find all sorts of electric grills today, some can be used indoors, while others can be used outdoors. It's ideal for people living in the city since it's not as much of a fire hazard like gas and charcoal types.
Perhaps the only downside to these types of grills is that if the power goes out, so does your barbecue party. And there's also the fact that it doesn't give off a smoky and woody flavor to your food since the flavor is lost when electricity is used.​
Portable Grills
Portable grills can run on gas, charcoal, or electricity. The main thing that portable grills have in common is that they can easily be transported.
Portable grills come in all shapes and sizes. Some come in a suitcase looking box that you can easily carry around when you are camping, while others come in larger sizes that are easy to transport but requires a bit of assembling on site.
Portable grills are ideal for the thrill-seeking outdoorsman who likes to go hiking, camping, fishing in a lake, or going to places far away from civilization. The only downside to these types of grills is their size. To compensate for its transportability, you'd have to sacrifice a large grilling surface. This means less food can be cooked at the same time.​
---
What To Look For In A Gas Grill
You can find a bunch of gas grill on the market today ranging from under $200 up to over $20000. And as the saying goes, "you get what you pay for." Though some people may argue that cheap gas grills do not perform as well as high-end ones that are worth thousands of dollars, I beg to differ. I really think that at the end of the day, it all boils down to your grilling skills.
There are a lot of features that you may want to be mindful of before you make a purchase. There's size, smoke boxes, price, and the number of burners.
What I recommend for you to get, is a nice big gas grill so that you wouldn't have any trouble cooking plenty of food at the same time. Unless you are planning on cooking for 2 to 3 people, you will do just fine with a small grill. Otherwise, you should go with one that can house at least 6 burger patties at a time to ensure that you and your guest wouldn't go hungry waiting for your foods.
​The next thing you want to look out for is the number of burners. Try to choose a gas grill with at least two burners. If you can find one with 3 that's within your budget, go ahead. The more burners your gas grill has, the better.
What's great about having multiple burners is that it allows you to create several cooking zones that will let you have a linear cooking process for continuously putting food in and out of your grill. Multiple burners will also allow you to cook different types of foods at once since it eliminates the need to worry about the donnees of your foods.
The last thing you want to check out before you purchase a gas grill is the overall quality and build of the product. Consider the fact that you are working with a product that can produce hazardous flames. It is only wise to make sure that the gas grill you are choosing can stand sturdy and can contain the fire it creates a safe zone, ergo the hood.
---
Top 5 Best Gas Grills You Can Get Online​
This gas grill is ideal for people who have small yards. It has the perfect dainty size for a small patio or a second story balcony. Aside from easy storing, its small size also requires minimal maintenance, cleaning, and assembling.
​What's great about this gas grill is that despite its small size, it can still pack a punch. It comes with TRU-infrared technology that completely eliminates hot and cold spots. This means even heating all throughout the cooking surface.
It also comes with an electronic ignition that is integrated with the gas knob for easy temperature maintenance and control​
Is great for small patios and balconies
Is ideal for cooking small amounts of food
Doesn't have any hot and cold spots
Great for beginners
Not ideal for cooking large quantities of food
Can be a bit wobbly
The hood can get stuck sometimes when being closed
This 2-burner gas grill is one of the best gas grills you will be able to find in the market today. What's great about this gas grill is that it comes with a porcelain coated cast iron grate that will require you minimal effort to clean and maintain.
It also comes with a stainless steel lid that comes with a temperature gauge for easy and accurate temperature monitoring. It even has an electronic ignition for quick and easy start ups. It's also very big with a 300 square inch cooking surface that will let you cook lots of burgers and hot dogs all at once.​
Comes with a cabinet
Comes with a temperature gauge
Ideal for cooking lots of food
Ideal for beginners
Is very durable
Comes with bad aftermarket customer support
Can rust easily
Can be a bit difficult to assemble
Another 2 burner gas grill in this list is the Smoke Hollow Barrel Grill. This grill comes with a porcelain coated wire cooking grid and heat tent that makes for easy cleaning and maintenance. It comes with a 20-inch wide and 16-inches deep barrel size that will allow for high heat distribution during cooking, therefore making the overall grilling process a whole lot quicker.
What's more is that it comes with two stainless steel burners that will let you create several cooking zones so that you will no longer have to worry about the doneness of your food when you are cooking different types of foods at once.​
Is simple and easy to use
Is easy to assemble
Is easy to clean
Not ideal for cooking plenty of food
Doesn't come with a manufacturer warranty
Has cold spots on the sides
If you are looking for a fine looking gas grill, this 2-burner might be the best choice for you. It comes with 360 square inches of cooking space that will allow you to cook 6 burger patties side by side, completely eliminating the hassle of rushing to cook food in order to feed all of your guests.
It also comes with a plastic side shelf that you can use for storing other ingredients, condiments, and utensils that you will need. What's more is that it has a Piezo ignition system that allows for an easy and reliable spark every time.​
Comes with a Piezo ignition system
Has 2-burners
Comes with a plastic side shelf for storage
Is easy to use
Ideal for beginners
Requires a large floor space
Is a bit difficult to clean
Is a bit hard to assemble
If you see yourself as an outdoorsman, the Coleman Road Trip Propane Portable Grill LXE might be the best choice for you. It comes with Swaptop interchangeable cooktop such as a griddle, a full-size griddle, and stove grates for added meal options.
It also comes with an Instastart ignition for completely matchless lighting, and PerfectFlow technology that ensures consistent performance even in the harshest conditions. It is also fairly easy to assemble since it comes with a foldable build that you can set up in mere seconds.​
Comes with interchangeable cooktops
Comes with Instastart ignition
Comes with PerfectFlow technology
Is ideal for nature trips
Can be a bit unstable
Is prone to corrosion
Doesn't come with a temperature gauge
---
The Winner
Of all the products I have mentioned, you certainly can't go wrong with buying the Smoke Hollow LS2016-2 2-Burner Propane Gas Barrel Grill. It's ideal for beginners, easy to clean and maintain, has 2-burners for multiple cooking zones, and can cook your food really quick. Needless to say, it's a choice that will surely give you the bang for your buck!
If you would like to know more about other cooking tools, please leave us your feedback below. We will try our best to help you in any way we can. Happy reading!​