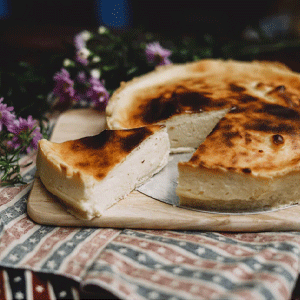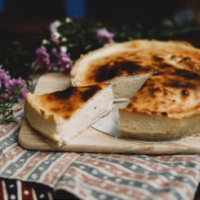 Mocha Cheesecake Recipe
Ingredients
1 1/2 c. chocolate wafers, finely crushed
1/3 c. butter
1/2 tbsp. granulated sugar
FILLING:
2 squares ( 1 oz. each) sweet chocolate
2 pkgs. (8 oz. each) cream cheese
4 eggs
3/4 c. sugar
2 to 3 tsp. instant coffee
Dash salt
Chocolate cookies, for garnish
Mint leaves, for garnish
Raspberries or other berries, for garnish
Chocolate leaves, for garnish
Instructions
Combine wafer crumbs, butter and sugar.
Butter sides and bottom of an 8 inch spring form pan.
Press crumb mixture evenly onto bottom of pan.
Melt chocolate over hot, but not boiling water.
Stir until smooth. Beat cream cheese until soft and smooth.
Add eggs, one at a time to cream cheese.
Gradually add sugar, mixing until well blended.
Add melted chocolate, instant coffee and salt. Stir until blended.
Turn mixture into prepared pan.
Bake cake at 350 degrees in center of oven for about 40 minutes or until cake center is almost set. It will firm when chilled.
Let cheesecake cool on counter for about 45 minutes.
Cover and chill for at least 4 hours or overnight. Remove sides from pan.
Garnish with chocolate leaves and/or fresh raspberries.
For a great family dinner favorite, or for special company, this is the perfect dessert.