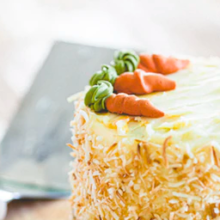 Carrot Cake Recipe
Ingredients
2 c. flour
2 1/2 c. sugar
2 tsp. baking soda
1/2 tsp. salt
2 tsp. cinnamon
2 c. grated carrots
3 eggs
1 c. oil
1 c. crushed pineapple, drained
1 tsp. vanilla
1 c. chopped nuts
1 c. chopped dates
FROSTING:
1 pkg. cream cheese
3/4 stick margarine
1 tbsp. milk
1 tsp. vanilla
Dash of salt
Instructions
Sift flour, sugar, baking soda, salt and cinnamon together.
Add eggs, oil and vanilla.
Mix well. (This will be thick.)
Add remaining ingredients.
Pour into greased pan and bake 1 hour at 325 degrees.
FROSTING: Blend together, gradually adding 2 1/2 to 3 cups powdered sugar.
This is a single recipe for frosting.
You may want to double it.