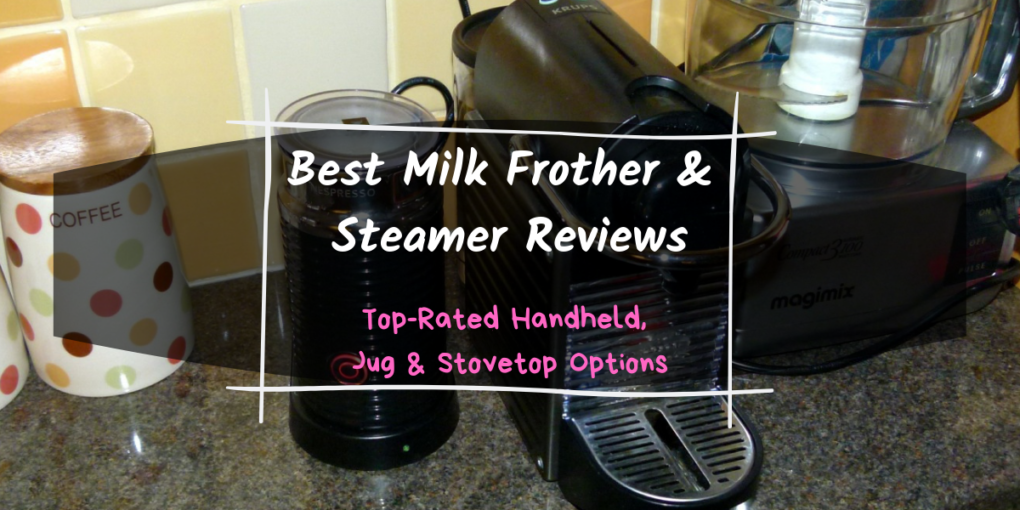 Best Milk Steamer & Milk Frother Reviews (2021)
A layer of warm, velvety frothed milk - or milk alternative - over your espresso is an essential part of the coffeeshop experience. It's also one of the parts of the coffeeshop experience that is most difficult to replicate at home and one of the things that make a lot of people who decide to try making coffee at home become disappointed with the results.
The more accessible models of espresso makers will make pretty good espresso but they usually fall short in their milk steaming and frothing abilities. Machines such as the Keurig will do everything for you - including the steaming of the milk - but they can be expensive and they generate a lot of unnecessary waste.
This is where electric milk frothers come to save the day. These little-known pieces of equipment will solve all of your frothing problems for less than what you'll spend buying a cappuccino every day for a moth.
QUICK COMPARISON: TOP MILK STEAMERS
**Below, you'll find our more detailed reviews, but you can also click the links above to see current prices or read customer reviews on Amazon.
---
The Best Milk Steamers For You Coffee Lovers
Milk Frothers vs. Milk Steamers
Although the terms are sometimes used interchangeably, frothing milk is not the same as steaming milk.
When milk is steamed a shot of steam is used to fill it with air and create bubbles. Since the steam is hot, it also warms the milk. This is usually achieved with an espresso machine's steam wand, which can release steam at very high pressures.
Frothing milk is simply adding air to it without the aid of steam. It can be done using tools such as a whisk, a blender or one of those battery-operated frothing wands you probably have forgotten somewhere inside one of your kitchen drawers.
Electric milk frothers are sometimes sold under the name "milk steamer" but it's important to state that they do not use any steam. They heat the milk with electrical coils in the interior of their jug in a way similar to how boilers heat water for tea. The frothing is done separately by electrical whisks and can be done on both cold and hot milk. They're a bit of a half-way point in between steaming and frothing as you get both heating and emulsification for texture.
This video showing one of our picks for best milk frother explains very well how these devices work:
WHAT IS THE DIFFERENCE BETWEEN A MILK STEAMER AND A MILK FROTHER?
Steaming, frothing, and foaming milk are almost the same but not quite actually. Steaming your milk only means that you are heating the milk to a certain temperature to develop sweetness for your drink and also to add a little froth to the texture.
Basically, when you look for milk steamers, you can find it named as milk frothers as well. But not all milk frothers are milk steamers too. Some milk frothers are only available without the steaming feature, which is basically the manual wand frothers where you still need to heat your milk separately. Foaming, on the other hand, is aerating your milk so it forms a foam or a denser kind of froth. In this post, we will focus on steaming and frothing your milk.
To give you an idea how this process works, you can check out this video:
How To Choose A Milk Steamer?
It's a good idea to have criteria in mind when you are on the lookout for the right milk steamer for your personal needs. Here are some of those things you would want to focus on when buying:
Can Steam and Froth
You would want to have a machine that can steam or heat your milk and at the same time, make some froth. This is the first thing that you want to find in your milk frothing machine. If you are a beginner, steaming and frothing your milk in a coffee machine could be very difficult and it may burn your hands. That's why milk steamers that are available to use at home are the best and the easiest to use. Choosing a machine that can perform steaming or heating and then frothing is ideal.
Can Bring Up The Right Temperature
To steam your milk, you would want it to get to a temperature of 140 degrees Fahrenheit. This is ideal in creating a frothy milk. Make sure you check the temperature settings of the steamer and determine which ones can produce your desired heat level.
Easily Operated
The last thing you would want to do so early in the morning is to grapple with your milk frother. This is why you should look for those with simple and foolproof features that don't require a barista to operate it. Look for something that is a cinch to use.
Steaming coffee and frothing it on a coffee machine requires tons of practice. But for those who want to whip up their coffee at home, you can look for an automatic steamer that will do the job for you in a few steps without complications.
Durable
Of course, you would want to buy something that can last for a long time in your kitchen. Check out reviews and find out which ones have been in the possession of users for a long time. Also make sure it comes with a good warranty so in case something goes wrong with your purchase, the manufacturing company can replace or repair it.
Price
Of course, we want to get the best out of our money. We want something that is not necessarily cheap, but something that is worth the price. Not all products that are expensive performs best, and not all products that are in the right price range can give you a good performance. Also, some cheap products can give you good results, especially when you learn a thing or two about proper steaming techniques.
Our Picks for the Best Milk Frothers and Steamers
This inexpensive milk frother and warmer has a sleek design that should work in modern or traditional kitchen settings. It has a maximum capacity of 125 ml if you are preparing froth and up to 250 ml if you are preparing milk. It should be good for an entire family who drinks coffee.
It comes with all indicators needed so you can check how the milk is doing inside. With its stainless steel exterior that also comes with a vacuum insulation, you can be assured that this product will last you for a long time and that the milk you prepared won't turn rancid in a short period of time. And since it is backed by a 2-year warranty, it's a product you will love to have in your kitchen.
Has Hot and Cold froth feature
Easy manual operation
Affordable
Easy clean up process with free brush
Creates a great froth in a matter of seconds.
Some said it doesn't reach the temperature they desire
It only contains a single whisk
Leaves a little milk residue after every use
This is another milk frother ideal for people on a budget. I like how the design and functionality are well-thought-out. You can create hot or cold froth or foam or just use this to heat the milk you are using for your coffee at the ideal temperature. It isn't intimidating to use, given its one-touch features. You can get your desired frothy results in just a minute, perfect for those who don't want to linger in their home in the morning or those who are always on the go.
What you will find remarkable about this product is that it comes with a cordless body. Its body rotates 360 degrees, so you shouldn't have trouble hooking it to an outlet and positioning it on your countertop.
Affordable
Easy to operate
Can make frothed milk 3 ways
Has 360 degrees positioning system
It is cordless for easier storage
Creates frothy milk fast
It's easy to clean
Nespresso has been making high-quality milk steamers/ frothers over the years. The Aeroccino 3 is the upgraded version of the Nespresso Plus. This steamer can make hot milk, hot frothed milk and cold frothed milk with a single button.
Available in two classy, beautiful colors which are black and red. It can create beautiful froths that are very high quality. It also works without making a sound. It is also known for the good quality and durability that can last for years.
It heats the milk at 140F-150F, which is the ideal temperature for making frothy milk. It contains two whisks which are very easy to handle and use. There is also a whisk compartment, which you can find at the base of the unit. It might be more expensive but it's definitely worth it.
Sleek and very stylish design
Great temperature control
Very Quiet
Durable
Heats milk at the right temperature
Comes with a lot of accessories
Easy to use
Has a compact design
More expensive than other
Not dishwasher safe
The Breville milk frother is one of best milk steamers and frothers out there because of its nifty features. First, it has a very precise temperature control which can froth your milk from a cold temperature to 120F, 140F, 150F and 160F.
It has a simple knob and button operation. Use the knob to choose the right temperature and press the button to execute the process. It has a good capacity as well. You can make frothy milk for up to 3 cups of coffee, ideal for small families.
There is also a disc for frothing milk for lattes. You get silky milk every time. Additionally, you can use the hot chocolate maker to create yourself a nice steaming hot cup of choco, perfect for those cold winter days. It makes use of an induction style of heating.
Exact temperature control
Can hold a large amount of milk to steam or froth
Easy pouring
Creates a perfect foam for all users
Dishwasher safe
Can make hot chocolate
Nice to look at
Doesn't take up a lot of space in the kitchen
With just a push of a button, you can create frothy milk for your favorite cup of Joe. With an attractive design, you will be able to showcase it in your kitchen. The build is solid and stable as well. The stainless-steel housing is resistant to damages and the detachable base is easy to store and move around.
If you are looking for a milk frother that is also easy to clean, get this. The capacity is also just right for a family.
Stainless steel housing for durability
Double-wall design that can prevent damages on the inside
The vacuum insulation keeps the milk at the right temperature
The base is detachable, so you can easily clean the milk receptacle
Price is reasonable
This might require a bit of babysitting so you don't accidentally overheat the milk
The receptacle can be too small for some people's needs
The Verdict
With all these ideal options, you might find yourself still confused as to which one to get. Let us offer a few more suggestions.
The Chef's Star Premier Automatic Milk Frother is an "Entry Level" frother that should be just right for your simple milk frothing needs. For its price, it has a good build and can produce quality frothy milk.
The Breville Milk Café Milk Frother is the "Coffee Aficionados' Milk Frother". If you are serious about your coffee and you want the frothy milk to be in some artisanal level, this is the perfect choice for you. It has all the settings you need to create perfect froth all the time. Its size is also just right for a small family.
Nespresso's Aeroccino3 Black Milk Frother is the "Stylish Milk Frother". If you want something that not only functions well but also attracts attention, this is a great option. It also works quietly and efficiently and has a durable build.
The Gourmia Cordless Electric Milk Frother is the "Best in Compact Features". The cordless design just makes it easier to store, great for those with limited storage space in their kitchen.
The Secura Automatic Electric Milk Frother and Warmer is the "Family Choice". It has a good capacity and can cater to the needs of more coffee drinkers. If your whole family loves drinking coffee with milk, the Secura Automatic Electric Milk Frother and Warmer is the best milk steamer to use -- thanks to its capacity.
Need more help finding the right kitchen equipment and tools? Head to our homepage for more reviews and recommendations. With some buying tips, you will know which products out there are the best options for you.