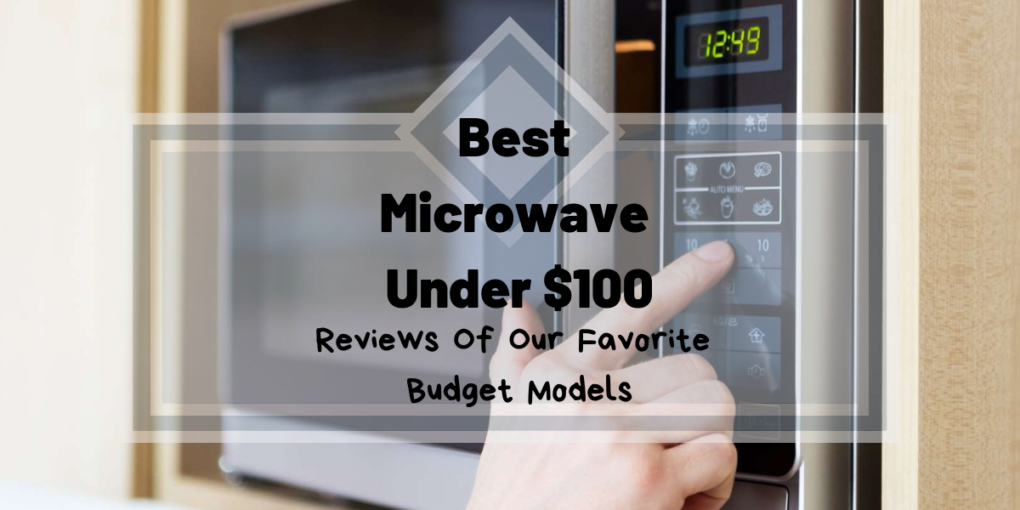 Best Microwave Under $100 (2019): Reviews Of Our Favorite Budget Models
Microwaves are one of those things that can get unnecessarily complicated and expensive. When was the last time that you used the "Popcorn" setting on yours and it actually worked? Does anyone remember that there's a pizza setting when they're trying to reheat last night's pizza for lunch?
The truth is that most of us don't need 15 different presets in our microwave ovens: we just need something that can properly reheat leftovers or warm up some milk for our morning coffee.
For those of you who are seeking more simple and affordable microwave ovens, we looked at models with prices under $100. We believe that this is a good price range for someone who is on a budget or looking for an oven without too many bells and whistles that are still capable of doing basic kitchen tasks.
If you're wondering whether a microwave oven that is under the $100 benchmark will stack up to more expensive models, the answer is yes. Choosing a more budget-friendly oven may mean that you will have to compromise on the fancy presets but it doesn't mean that you'll wind up with a less-than-powerful appliance.
Things to consider when purchasing a microwave oven:
Regardless of price point, there are number of features you should be mindful of when shopping for a microwave oven to ensure that the model that you're bringing home fits your needs:
Wattage
Most microwaves will either be 700-watt or 1,000-watt with the latter being more powerful and able to heat things quicker.
Choosing an oven that is not powerful enough can mean that you will have to heat items for longer to get the same results that you would in a more powerful model. This can lead to undesirable results such as food that comes out extremely hot and dry in certain places and lukewarm and soggy in others because it's been exposed to microwaves for such an extended period of time.
If you're purchasing a microwave oven for light, occasional use you can definitely get away with a less-powerful and more affordable model. Those who are planning on using it more frequently and for heavier cooking will find a 1,000-watt oven to be a better investment.
Size
Considering size is important not only to figure out whether you'll have enough space in your countertop or in a shelf for a microwave but also for knowing whether the items that you want to put in it will actually fit inside.
Many people will bring home the cheapest oven from the store only to find out later on that it doesn't fit their dinner plates or the large container where they usually keep leftovers.
*Microwaves sizes* [5 Things to Consider Before You Buy a Microwave Oven] are usually described in cubic feet. As a general rule, microwaves that are 1.2 cubic feet or larger will be able to fit most standard-size plates and containers. If you're still unsure, you can use the height, width and depth measurements provided by the manufacturer to figure out whether a certain model is the right size for your needs.
Features
Even the most affordable microwave ovens now come with plenty of gimmicky features. Again, taking into account your needs will help you decide whether that one less-powerful oven that can connect to Alexa will work for you or if you prefer a microwave that does not take voice commands to but that can still whip up a perfectly baked potato.
If you get too distracted looking at ovens that seem to have one button for every food group, do remember that most experts agree that those fancy *microwave settings* [99% of Your Microwave Settings Are Phony - Thrillist] don't really work as well as they're advertised to work.
Some features such as child locks, however, may not be so extra and can prevent accidents and help anyone with small children running around have some peace of mind.
Quick Comparison: Top Microwave Under $100 2019
**Below, you'll find our more detailed reviews, but you can also click the links above to see current prices or read customer reviews on Amazon.
---
What Are The Benefits Of Having A Microwave
Ah microwaves! What would we do without them? I honestly can't imagine living in a house without a microwave. If you haven't owned or used a microwave before, then I'm sure purchasing a microwave will make a significant impact in your food experience.
The microwave is mostly known for its heating feature. The major function of a microwave is to reheat food. Whatever your food's size and density is, a nice microwave can help you thoroughly heat it up as if it was fresh out of the stovetop.
Today, microwaves come with more advanced functions that make them more indispensable tools in the kitchen. Some microwaves in the market today now come with one-touch functions and other pre-programmed features that can help you save a significant amount of time. Other microwaves even come with several cooking features that you can use for toasting and defrosting.
I guess the main benefit of having a microwave around the house is that it can help you save time. With a reliable microwave at your disposal, you will be able to prepare a lot of meals beforehand that you can just heat up in the microwave when you need them.
Without exaggeration, I can say that a nice microwave in the kitchen can help save your hours of food preparation and cooking.
---
Things To Consider When Buying A Microwave
To ensure that you get a nice product that you would enjoy using for years to come, I urge you to consider these following factors that will help you determine the product that will fit your personal preferences and needs.​
Size​
Of course, the first thing you must consider is the size of the microwave. You must make sure that you microwave will fit the available space in your kitchen. This means that you should know your kitchen's measurements. Be ready to take out a tape measure, you will certainly need it.
Programed Functions
Now if you ask me, the perfect microwave would have a size not less than 1.2 cubic feet. A 1.2 cubic feet microwave can easily accommodate most plate sizes, even those large casserole dishes.
Try to look for a microwave that comes with usefully programmed functions. I personally recommend looking for a microwave with a one-touch feature for bread. Some microwaves even come with advanced technologies that can sense the amount of time and heat temperature that your food requires.
Simply have a look out for programmed features you may need. Such functions could be for defrosting, poaching, rice, fish, etc.
Energy Consumption
Microwaves in the market today are much more good at energy consumption than the microwaves before. When looking for a microwave, try to go with one that can easily run on just 1000 WATTS of power.
Microwaves that only require 1000 WATTS of energy can thoroughly heat up your food without having to consume a lot of energy. Whether you are heating up a couple of leftovers or a large whole chicken, your energy consumption will not be enough to break the bank.
Usability
Try to choose a microwave that is very user-friendly. As I say, you're better off with a simple machine that you can fully understand and enjoy using than a machine that's highly advanced but will only make your headache.
Even though a microwave that comes with all the bells and whistles might be tempting to buy, keep in mind that your experience in using the product matters more than what the product can actually offer.
---
The 5 Best Microwaves Under $100 In The Market
Now that you are well aware of the benefits of having a microwave and the different factors you should look out for before purchasing a microwave, let us now move on to the list of the 5 best microwaves you can buy for under $100.
This 1,000-watt compact-sized oven scores high on the looks category with its sleek stainless steel exterior. The cooking programs are simple, straightforward and cover all the basics: pizza, baked potatoes, dinner plates, popcorn and vegetables. It features a child lock, easy-to-read LED display and and a glass turntable to ensure even cooking.
Aside from being a completely energy efficient machine, this microwave also happens to be time efficient. It comes with a handy set of time-saving functions such as 6 different one-touch controls, a defrost setting that you can program to defrost based on time and weight, and a 6 minute express cooking function. This microwave comes with a 1-year limited manufacturer warranty.
1,000 Watts
has quickstart controls
comes with 6 one-touch cooking functions
comes with an advanced defrosting feature
comes with a 1 year manufacturer warranty
has a keypad lock
Durability issues with heavy us
Problems with the cavity light
You can now heat up leftovers or prepare snacks easily with the help of this microwave oven. It won't break the bank but it doesn't compromise on quality as well. With its stainless steel construction, it should be able to handle some abuse. The display at the front is easy to use.
This microwave oven offers 10 different power levels, so you can choose the best one that is most suitable for the type of food you are reheating. You can also use the quick buttons that can easily bake potato, make pizza, reheat food, thaw frozen food, reheat beverages and make popcorn.
​Sturdy construction
​Comes with different settings for cooking
​Doesn't take up a lot of space
​Inexpensive
The turntable inside is made from durable materials

Has a child lock feature

Nice to look at

Works quietly​

​It beeps constantly until you open the door.

This microwave offers 0.7 cubic feet of capacity, which should be just right for small cooking and reheating needs. The machine has been equipped with features that allow it to detect the weight of the food you are cooking to determine how much time it needs to defrost or to cook.
With 700 watts of power, you should have no problems cooking your food. It is also simple to use, thanks to its LED display. The 10 different power levels to choose from are convenient.
​Very inexpensive
​10 different power settings
​Checks the weight of the food to determine optimal cooking time
Has speed defrosting features

LED display is easy to use

Has programmable settings​

​Some said they wish this one has a quick start function

Don't miss out on the benefits of this microwave oven. It boasts of a sensor that ensures effective heating of foods such as vegetables, leftover pizza and many more. The large 1.2 cubic feet of capacity should also work for your bigger cooking needs.
Take advantage of its 10 power settings that ensures you will be able to cook your food properly. The digital functions are easy to read
​Large capacity
​Beeping sound can be turned off
​Has different power levels
​Comes with two defrost settings
​One-touch feature for the popcorn
Easy-to-clean interior

​Some said the beeping sound is too loud

This Bella microwave oven is one of the best microwave ovens in the market today. What's great about this machine is that it comes with a very useful set of features that can run at only 700 watts of power. It is truly an impressive and energy-efficient machine.
This small microwave comes with 10 power levels that can help you gain accurate and specific heat settings for any type of food you wish to reheat or cook. It also comes with 6 handy automatic cooking functions, express cook controls, and a memory function for significant time efficiency in the kitchen.
This microwave also comes at a handy size. Its turntable can accommodate 10-inch diameter plates and bowls.​
is very energy efficient at 700 watts
comes with an LED digital display
has express cooking functions
comes with 6 one-touch cooking functions
has a memory function
cannot accommodate large casserole dishes
doesn't come with a manufacturer warranty
---
​Which One Should You Get?
Large Capacity: Farberware Classic FMO11AHTBKB. If you like making big batches of meals and you also like reheating foods in a casserole, this is a good choice for you. It has a bigger capacity than standard ones out there, allowing you to reheat more foods.
Space-Saver: AmazonBasics Microwave. It's compact and with a nice and simple design..
Most affordable: Commercial Chef Counter Top Rotary Microwave. It doesn't have fancy automatic features but it gets the job done without breaking the bank.
Attractive Design: BLACK+DECKER EM031MB11 Digital Microwave Oven. This model has a super sleek and modern look that will look good on nearly every kitchen.
Nothing can compare to the convenience of having thoroughly-heated food that feels and tastes as if it was just freshly cooked without actually having to spend a lot of time in the kitchen. It is mainly for this reason why I believe that we should be very thankful for the creation of microwaves.
Having a microwave at home lets you consume leftover food as if they are cooked fresh. No food will ever be wasted because you can use this device to reheat your frozen meals and make them taste as good as when they were freshly-cooked.
You can also whip up new dishes with the help of this nifty appliance. From casserole dishes to roasted meals, the microwave oven will not fail you.
There are plenty of options out there. The more features are integrated in the oven, the more expensive it gets. However, there are also a more affordable choice. If you are on a tight budget, don't worry because there are plenty of microwaves out there that should be within your budget range.
What to Do Next?
Now that you know all these, find the right microwave for your needs. Click the links of the product you think is the most suitable choice for you. Also head to our homepage to learn more about which products will provide the best cooking benefits.