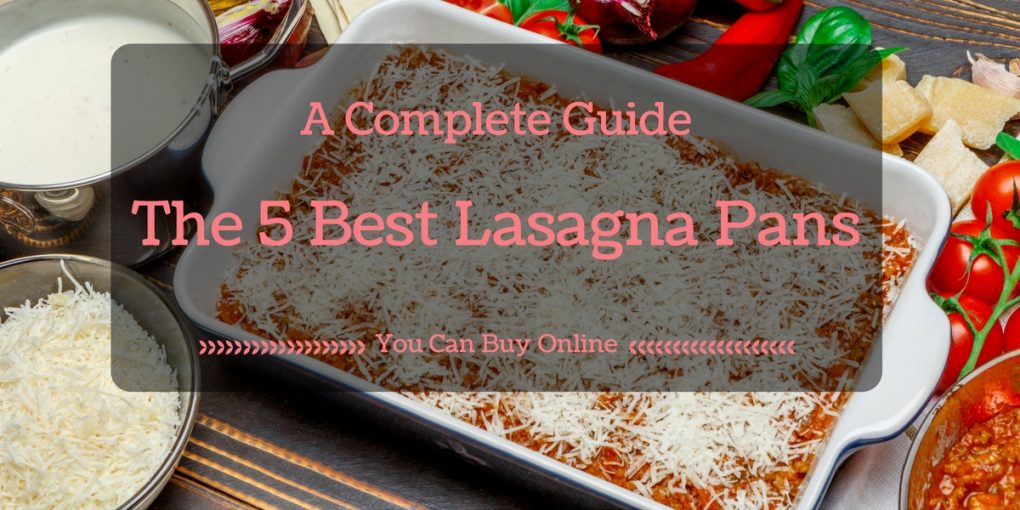 A Complete Guide On The 5 Best Lasagna Pans You Can Buy Online
Baking a batch of lasagna isn't that hard. With the right set of tools and ingredients, you can easily create a fine batch or two of this hearty pasta dish. One thing that you should always have at your disposal when it comes to baking lasagnas are lasagna pans.
Having a reliable lasagna pan in your kitchen will allow you to create perfectly cooked lasagna that will be able to hold itself up after removing it from the pan.
If you are currently looking for a nice lasagna pan that you would like to use at home or give as a gift, then I suggest you continue reading this article for it will contain all the information you need to know when it comes to buying lasagna pans.
In this article, you will learn about how to choose a lasagna pan, how to make classic lasagna with it, and a list of the 5 best lasagna pans that you can buy online. Are you ready? Let's get started!
A Complete Guide On the 5 Best Lasagna Pans
How To Make Lasagna The Classic Way
Lasagna is pretty easy to make. All you have to do is prepare the right set of ingredients, which usually include: lasagna noodles, ground beef, pasta sauce, ricotta cheese, mozzarella cheese, parmesan cheese, parsley, eggs, water, and some seasoning.
With these ingredients at hand, the main things you need to do is cook the lasagna noodles, brown the ground beef, make the pasta sauce, make the cheese sauce, and stack up the lasagna noodles to create a perfectly layered lasagna.
As for the layer order, it's very simple. First thing you need to put in is the pasta meat sauce, second is the lasagna noodles, last is the cheese sauce. Simply repeat placing the ingredients in the baking pan in this order until your lasagna layers are about 2-inches away from the pan's top lip. Cover the lasagna layers with another coating of meat sauce, sprinkle it with mozzarella and parmesan cheese, place it in the oven and bake.
That's how simple making a single batch of lasagna can be. However, you must take note that even though it's simple to assemble the layers of a lasagna, it doesn't mean that all could end well.
To create a perfect lasagna, you need to have the right kind of pan.
---
How To Choose A Lasagna Pan​
If you thought all lasagna pans are the same, then boy you are mistaken. Don't be dismayed though, I too thought that as long as it can be placed in the oven and it can hold all the layers of my lasagna it can do just fine. But boy was I surprised by the difference in outcome when I started using the right pan for baking lasagna.
SHAPE AND SIZE
The first thing you should look out for is the shape of the pan. Try to use a pan that comes in a rectangular or square shape. Getting a pan in this shape would allow for seamless layering and slicing. I mean sure, you can work with a round pan, but then you'd have to cut up the lasagna noodles that always come in a rectangular shape. It would just require you more time and effort for preparation.
The second thing you need to be mindful of is the height of the pan itself. Since lasagna usually come with 4 or more layers, it's ideal to go with a pan that has a height of 2 inches and above. But if you really want to get a lasagna pan that can be used to make large and small lasagna, I suggest you get one that is 4 inches in height.
Take note that a 5 inch by 8 inch rectangular lasagna pan will be able to provide you with a small batch that's good for two people. So if you are planning on using the lasagna pan you are getting to prepare lasagna for a large group, you better get something that's about 12 inches or above in length.​
MATERIAL
As for the material, I think it really depends on your personal preference. Metal lasagna pans tend to conduct heat very well and are quite light to carry and very durable. Pyrex lasagna pans on the other hand, are much more presentable. The pyrex glass is also very easy to clean since you don't have to worry about scratching off any coatings.
However, if you ask me, I really suggest going with a nice Pyrex baking pan. It's just less of a hassle to work with. You don't have to bother placing your lasagna in another dish for presentation, you don't have to put in much effort when it comes to cleaning it, and you can even use it as a means of food storage because it doesn't leak flavors onto your food.​
EASE OF USE
Lastly, try to look for a lasagna pan that is easy to clean and easy to handle. Go with a lasagna pan that has a glossy finish for easier scraping or wiping. You may also want to look for a pan that's dishwasher safe. Also try to go with a lasagna pan that comes with ergonomic handles that you can grip even when you're wearing oven mitts.​
---
5 Best Lasagna Pans You Should Checkout
1. Pyrex Basics Clear Oblong Glass Baking Dishes
Pyrex is a well known brand that has been living up to its reputation for more than 80 years. What makes this Pyrex pan the ideal choice for baking lasagna (or any other type of food for that matter) is its highly durable material that is able to withstand high heat temperatures. In fact, Pyrex glass is one of the least likely glasses to break from temperature changes.
This Pyrex lasagna pan is also good for storing your leftover lasagna since it can be placed in the fridge after serving. You can also reheat your lasagna in the microwave or oven while it's still in this pan. And after using it, you can easily clean it in the dishwasher.​
Pros
Is oven safe
Is refrigerator safe
Is microwaveable
Is dishwasher safe
Ideal for serving
Has a great shape
Cons
Is not a durable at metal
Can break if subjected to extreme changes in temperature
2. Cuisinart Chef's Classic Stainless Roaster
This classic looking stainless steel roaster can be used to make a large 16 inch lasagna. What I like about this pan is that it is made of highly durable stainless steel. Aside from being durable and easy to clean, the stainless steel material that this pan is made of allows for a lighter weight as opposed to glass and cast iron pans.
Though I personally prefer using glass pans for serving, the shiny stainless steel exterior of this pan also makes it a great server. I guess it is somewhat comparable to those pans you see in catered buffets.
Another thing that I liked about this pan is that it's very easy to clean. You don't have to be cautious when cleaning it because there aren't really any coatings to scrape off. Besides, it's completely dishwasher safe.​
Pros
Is dishwasher safe
Is durable
Can retain heat very well
Can be used for serving
Cons
The metal can react to certain foods
Can be easily dented
3. Baker's Secret Signature Oblong Rectangular Pan
This oblong rectangular pan has got to be one of the easiest to clean in this list. This lasagna pan comes with a handy non-stick coating that doesn't only allow less menial cleaning, but easy food release as well. It's even metal spatula safe!
However, what I liked best about this pan is that it comes with large contoured handles that you can easily grasp even when you are wearing oven mitts. It has a highly ergonomic design that just allows for easy maneuvering. Which is very important since you will be carrying a heavy load of piping hot food if you cook lasagna in it.
What's more is that this lasagna pan is completely dishwasher safe and it comes with a handy lifetime warranty.​
Pros
Comes with a nonstick interior
Comes with ergonomic handles
Is dishwasher safe
Comes with a lifetime warranty
Cons
The non-stick coating can be chipped off
The after market service is slow
4. Cuisinart Chef's Classic Enameled Cast Iron Lasagna Pan
Boy is this lasagna pan a beaut! This Cuisinart chef's classic lasagna pan comes with a nice 14 inch length that's just ideal for preparing large batches of lasagna for the whole family.
It comes with a porcelain enameled exterior that makes it terrific for serving. If you are impressed with the looks of this pan, you're going to be more impressed when you find out what's underneath it's exterior. It comes with a cast iron interior that is known for retaining heat very well. Talk about use and great aesthetics!
Pros
Comes with an attractive design
Comes with a cast iron interior
Is ideal for serving
Retains heat very well
Cons
The enamel coating can get chipped off
Can be a bit hard to grip when wearing oven mitts
5. Cuisinart Lasagna Pan with Stainless Roasting Rack
This Cuisinart lasagna pan is another durable and light product in this list because it is made of stainless steel materials. It comes with a mirror finish that makes it look quite presentable and ideal for serving. It's very much like those pans you see caterers use for serving.
What I like about this pan is that it comes in a standard size that fits most ovens. It also comes with nice riveted side handles and a handy stainless steel roasting rack for added ease of use. Needless to say, this pan is ideal for baking lasagna, Au Gratin potatoes, and casseroles.​
Pros
Comes with a mirror finish
Great for serving
Has a standard size
Comes with a roasting rack
Cons
Doesn't come with a warranty
Can dent easily
---
The Winner
The Pyrex lasagna pan is the clear winner from this list if you ask me. Why? Because the Pyrex lasagna pan offers a great size that will allow you to cook a large batch of lasagna that can feed the whole family, it's highly durable and can withstand high heat temperatures, it is highly presentable, easy to clean, and can be used for storage.
Even when you're not baking lasagna this pan is a great choice. You can use it to bake casseroles, stews, and poultry. It's even quite affordable!
If you have any questions about the article above, please do not be shy to leave us a comment in the box below.​
---