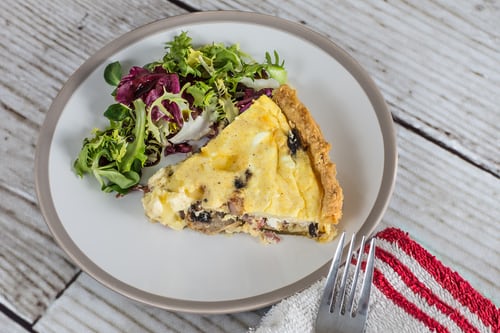 5 Quiche Recipes for Easy Sunday Brunches at Home
Along with deviled eggs, fondue and cheese logs quiche has been relegated to the pantheon of old school foods to cringe at the same way we do when remembering the forest green velour pants we wore whilst eating them.
But with all the 70's nostalgia going around these days, it's only fair that we also give the decade's cuisine a fair chance at some well-deserved comebacks and no other dish is a better candidate for this than quiche.
As it happens with any food that becomes ubiquitously popular, quiche has become, since it's heyday on the American table four decades ago, one of the culinary world's favorite punchlines.
It brings back bad memories of heavy, custard side dishes to holiday dinners and the frozen versions many of us are used to buying on a whim at the supermarket haven't helped its reputation at all.
But we're here to argue that quiche - the homemade kind - is pretty darn good. It's the perfect multi-purpose food to make ahead and have around for breakfast, lunch and dinner and it works both as a main dish or as a side.
It's also one of the best meals to feed our current brunch obsession as nothing says: "I had time to make breakfast today because it's a weekend" better than baking your eggs into a pie.
And let's not get started on how insta-ready those quiche slices will look with all of the colorful veggies you'll put into them.