Best Knife Sharpener Reviews (2019): The Top Tools To Buy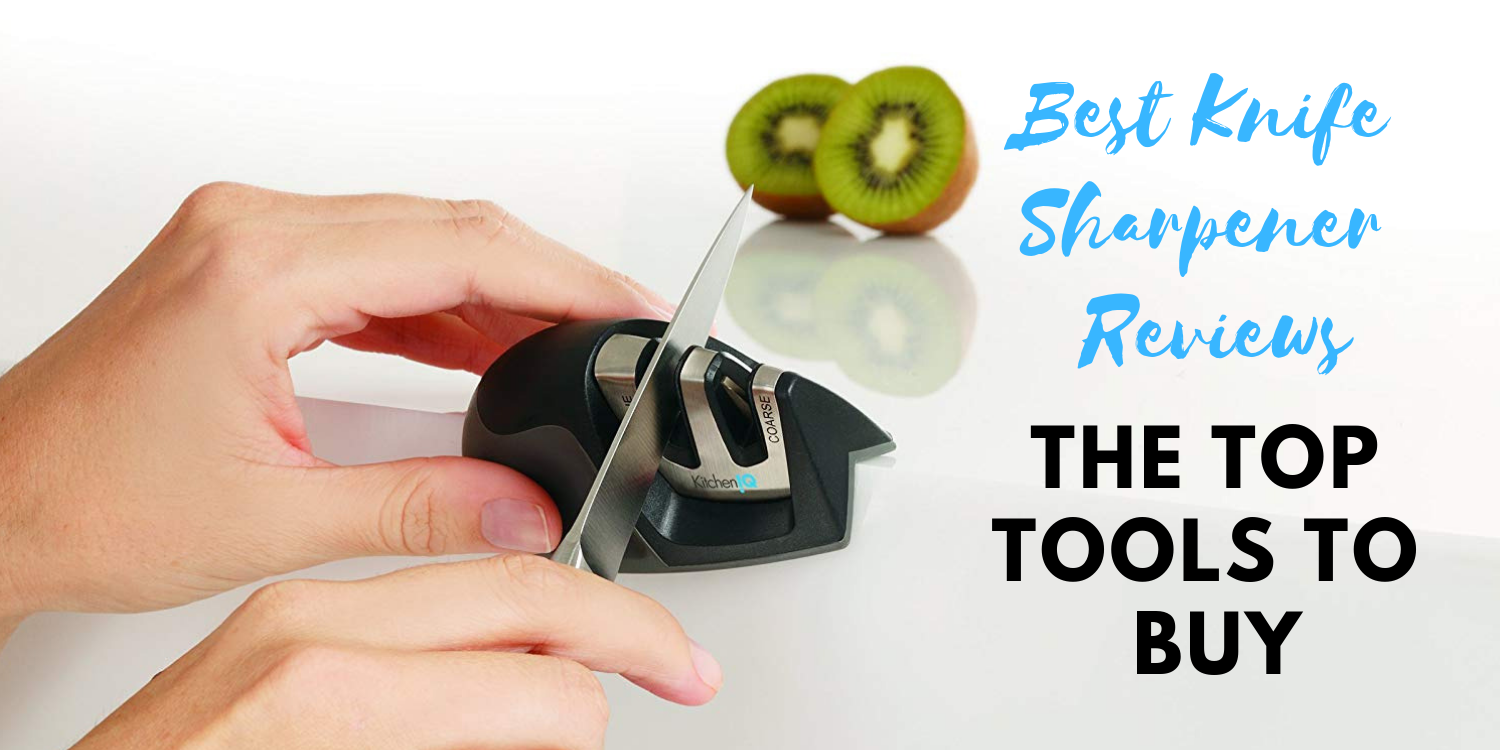 Save
Sharp knives are essential to efficient kitchen operations. There is nothing more annoying than using a dull knife to cut your vegetables. If it can't even cut through something as delicate as a tomato, you definitely need to sharpen your knife.
A good knife sharpener is what you need to get the job done. With this tool in tow, you never have to worry about crushing your delicate ingredients because your knife isn't sharp enough to make a clean slice. You can also cut through even the hardest ingredients such as meats with their bone in.
Keep on reading this article to know which of the knife sharpeners out there are worth buying. Also get some ideas on the factors you need to consider when buying a knife sharpener.
Quick Comparison: Top 4 Knife Sharpener
**Below, you'll find our more detailed reviews, but you can also click the links above to see current prices or read customer reviews on Amazon.
Types of Knife Sharpeners Out There
Before you begin your hunt for the best knife sharpener, it is imperative to learn what your options are first. Here the various types of knife sharpeners you can find today:
Sharpening Stones
These are flat, square-shaped stones that are used to sharpen the blade of a knife and many other cutting or slicing tools. They come in different levels of grits or finishes. Some are finer while others tend to be grittier. Finer grits are better if you want to slowly remove materials from the surface of your blade. The higher the number of the grit, the finer it is. How high the number of grit you will choose will depend on the kind of tool you are sharpening.
Diamond Knife and Tool Sharpener
This sharpener is usually made from some form of composite or completely metal base. They are called by such a name because of the miniscule diamonds that are attached to the surface of the metal with the help of nickel-plating methods. What is great about this type of sharpener is that it does not cause the appearance of depression on the surface of the blade.
Sharpening Steels
Also called steel rods, these are used for light honing purposes and for aligning metals. Many chefs use this in between cutting meats. There are sharpening steels out there that work in lightly sharpening blades.
Electric Sharpeners
This kind of knife sharpener makes use of sharpening stones that spin in order to get the desired sharpness level. The right angle must be achieved in order to get the sharpness you are looking for. These are convenient to use but they can be difficult to control
Which of these types of knife sharpeners you should get should depend on your purpose and need.
Best Knife Sharpener 2019 Reviews
Check out the pros and cons of these products: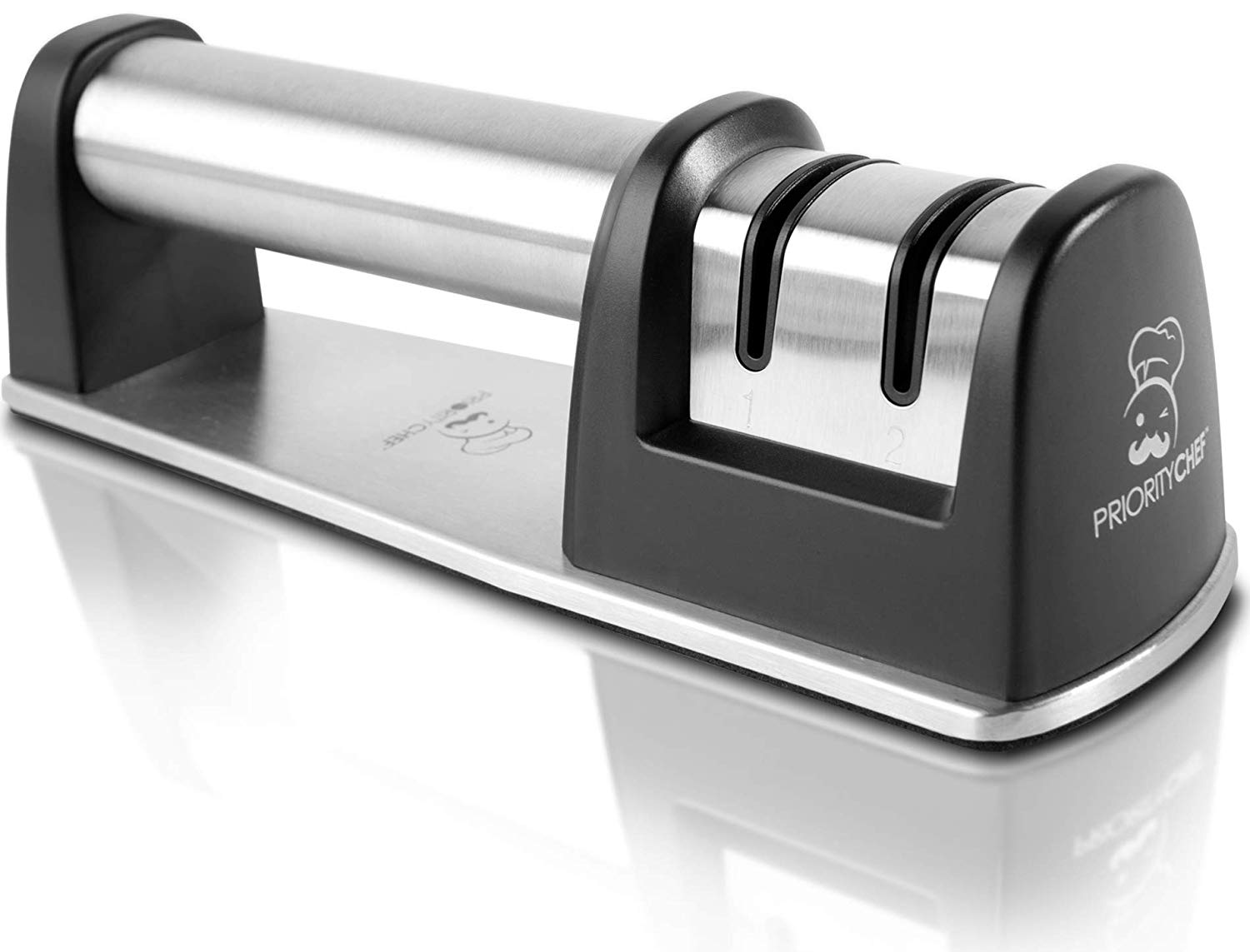 Save
Whether you want to sharpen straight or serrated knives, this knife sharpener will serve you well. It isn't surprising why this is loved by professionals because of its durability, reliability and quality. It offers a 2-stage sharpening system that allows you to get the sharpest results. Made with ease-of-use in mind, this sharer has a non-slip cushion installed at the bottom to prevent this from moving around while working in sharpening your knife. It also has a handle that is easy to grip. It is safe to use and works with different types of blades out there, even the hard ones.
Pros
This sharpener features 2 slots. The first one has wheels coated with diamond while the second one has wheels with ceramic honing properties. This not just sharpens your knife but hones and polishes it as well.
You get even sharpening results all the time.
It doesn't take a genius to figure out how to use this. It is very easy to use.
It shouldn't be a hassle to store in the kitchen.
Your knife always comes out polished and clean.
It has a stable base and foundation, so you can safely sharpen your knife without worrying about the base slipping.
This is one of the most affordable knife sharpeners out there.
Has good ergonomics.
This comes with a 100% satisfaction guarantee.
It works even for serrated knives.
Cons
Most of the complaints were because of the instructions that came with it.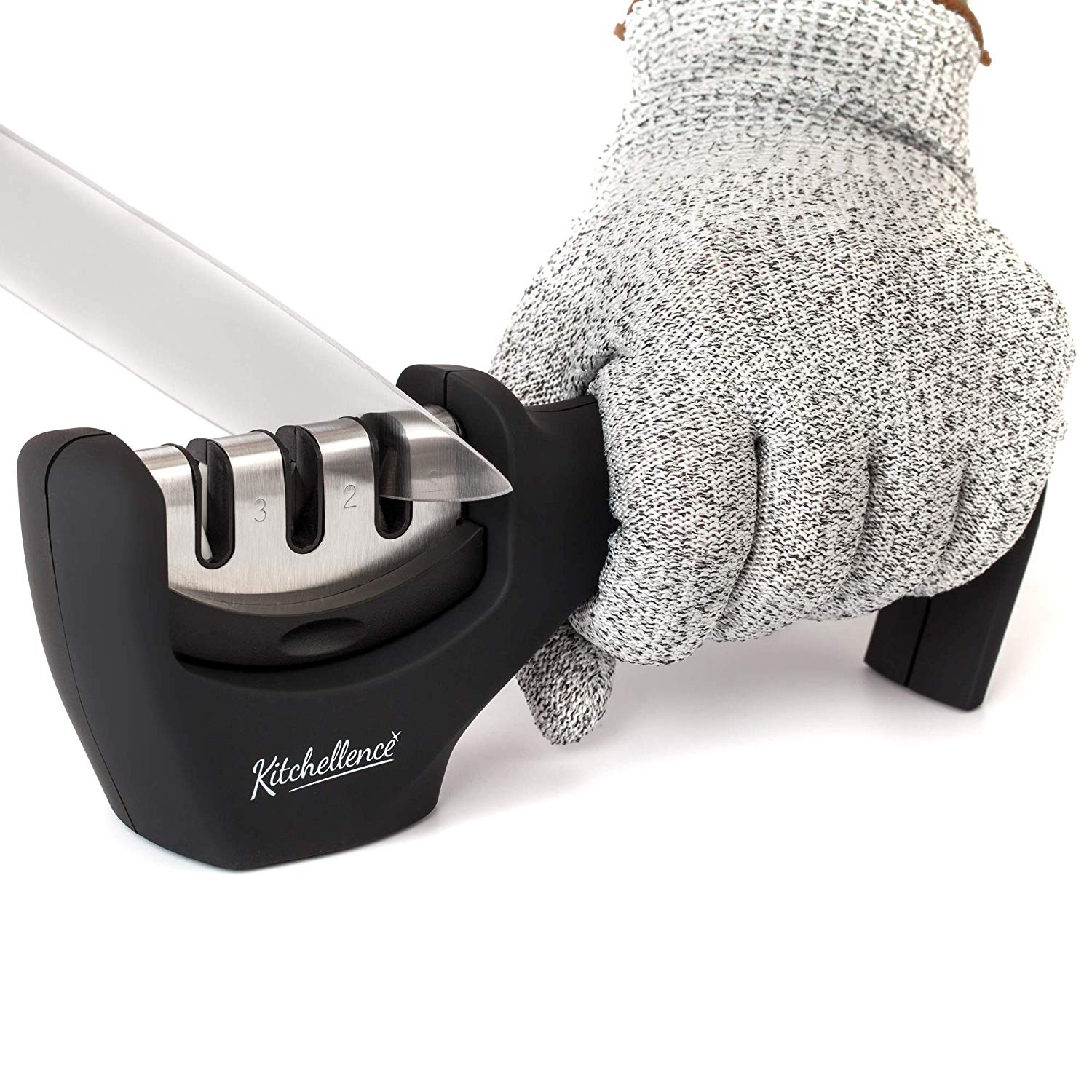 Save
You can rely on this knife sharpener to get most of your knife sharpening work done. It features a 3-step sharpening system. The first one makes use of diamond sharpening rods to straighten out any kinks or repair any visible damages. The second slot helps restore your knife's V-shape while the third slot polishes it to render it completely smooth. It is one of the easiest to use and has a good build that will surely last for a long time.
Pros
It has more steps than other sharpeners out there. The three-step system truly delivers even and polished results.
It comes with gloves that are cut-resistant.
It is easy to use. The handle is ergonomic and allows you to stabilize the sharpener.
Constructed from ABS plastic, this should not be susceptible to damages.
The price is affordable.
Truly delivers great sharpening results, especially on a ceramic knife.
Cons
This can't sharpen serrated knives. It might also make a  stainless steel knife thinner.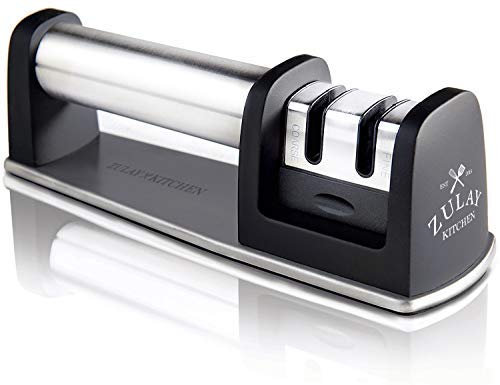 Save
Accuracy and ease of use are some of the things that this knife sharpener can offer. If you have been using a whetstone for the longest time, you will wonder why you haven't used this sooner. It is so easy to use. It features a 2-step process that truly produces great results. The non-slip grip ensures you can sharpen your knife on a stable surface.
Pros
This works even on older knives.
It comes with a 100% satisfaction guarantee.
It features a 2-step sharpening system. The first step makes use of Tungsten while the second one makes of ceramic. It produces sharp and even results.
You can get results in seconds. If you are on a hurry to cook or slice your ingredients, get this sharpener as it will transform dull knife into a sharp knife in mere seconds.
It can help repair small problems with your knife such as nicks and cuts.
This knife features a non-slip base, so you can sharpen your knife with ease.
The handles are ergonomic.
It is less expensive than competing brands.
Cons
It is not ideal for ceramic knives.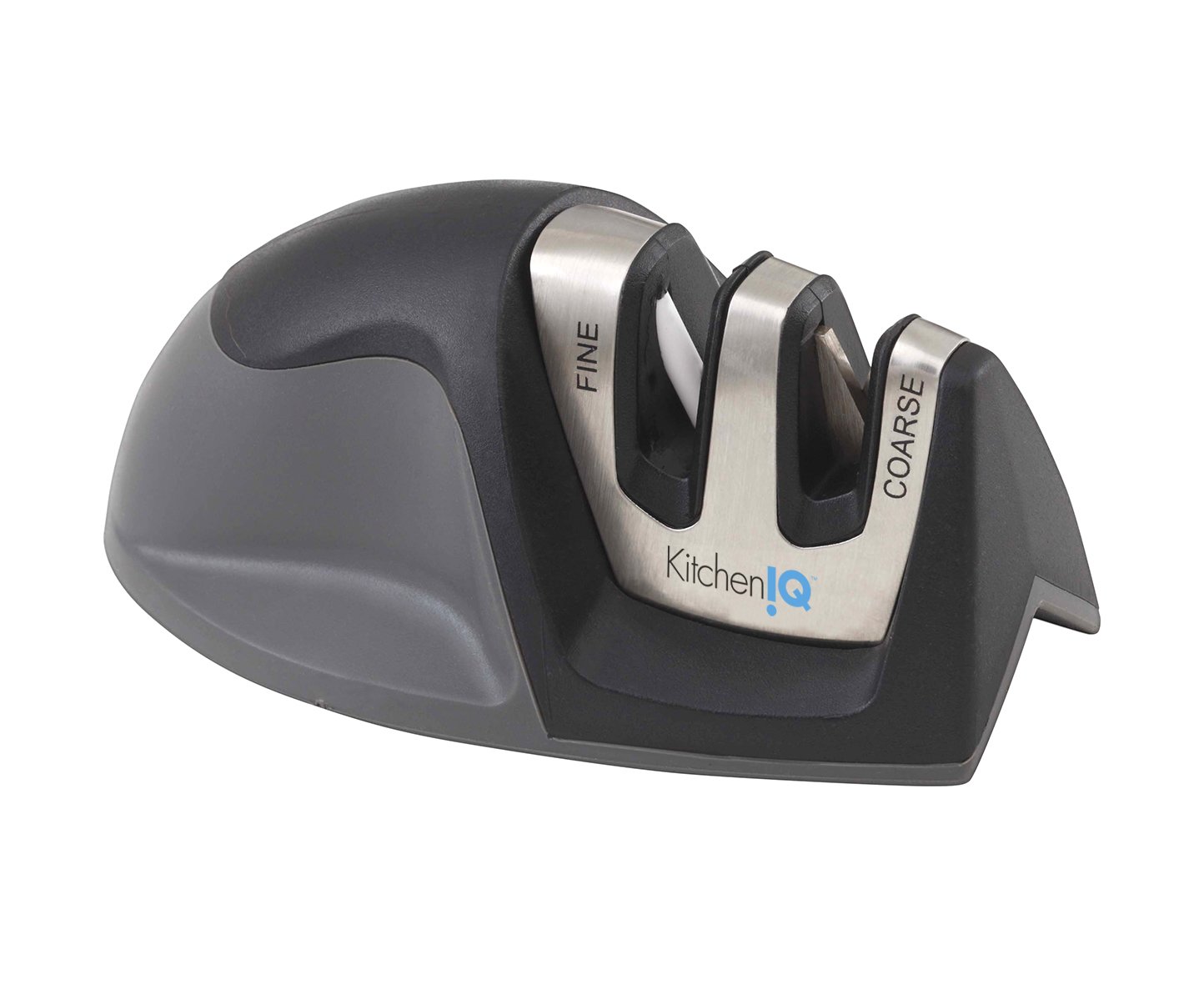 Save
Polish your knife with this affordable knife sharpener that ensures you get sharp results all the time. It has a unique design that works seamlessly in the kitchen. The Patented Edge Grip will allow you to keep the sharpener in place. The 2-step process involves the use of Carbide blades to sharpen the edges and ceramic rods to hone it.
Pros
This is a compact choice. It is small but creates big results. Being small, it can be stowed away in your kitchen effortlessly.
It revives old and dull knives. Its 2-step process is very easy and convenient to use.
You can keep it in place, thanks to its Edge Grip that allows you to grip it down for added stability and flexibility while sharpening your knife.
You can see results fast. Even with just a few pulls, you can already get the sharpness you are after.
One of the most affordable knife sharpeners out there.
Many said this is also easy to clean.
Cons
Some said the sharpeners have worn down after a few months of uses.
Which One Should You Get?
Professional Sharpening Tool: PriorityChef Knife Sharpener for Straight and Serrated Knives. This is a choice even by professionals because of how well this sharpens. It produces even and clean results all the time. You can even sharpen serrated knives.
More Sharpening Steps: Kitchellence Kitchen Knife Sharpener. This sharpener has a 3-step sharpening process that works with different types of tools. It does not only sharpen but also helps in correcting damages to your knife.
Works Even on Older Knives: Zulay Kitchen Manual Stainless Steel Knife Sharpenaer. Don't throw out your old knives yet. Get this sharpener as this is capable of fixing and reviving old and dull knives. It is also affordable and easy to use, which makes this a reliable tool to have in the kitchen.
Most Affordable Choice: KitchenIQ 0009 50009 Edge Grip 2 Stage Knife Sharpener. Don't break the bank trying to get the best knife sharpener. This alone will already work in providing you with the sharpening results you are after. It is also compact, ideal for kitchens with limited storage space.
Tips in Buying the Best Knife Sharpener
With so many options out there, it can be difficult to find a knife sharpener that will work well for your needs. Here are some tips to help steer you in the right direction:
Consider the material.
The material of the knife sharpener will tell you a lot about the functionality of the sharpener. You can choose from different materials such as diamond flecks, carbides, ceramic and steel. Diamond flecks and carbides are typically utilized as an abrasive. Despite these materials having the same functionality, the diamond flecks are more expensive for obvious reasons. If you are on a budget, you might want to go for the carbide ones. However, you might want to spring for diamond flecks if you prefer something that doesn't have an aggressive friction. This material usually creates a gentler sharpening process.
Ceramic and steel are generally preferred for honing. It goes hand in hand with sharpeners. If you need to clean up the cutting of your knife, this is definitely a good material to have.
Make sure it does an even job of sharpening your knife.
You don't want to end up with an uneven edge. That just isn't great for creating even and aesthetically pleasing results. Steer away from those small and hand-held sharpeners because they can produce uneven results. They are also quite dangerous to use. These are typically included with knife purchases.
Always go with a stationary knife sharpener. It should sit on a stable manner on your countertop. It is also more ideal to get sharpeners with a cutting slot. You just run the blade of your knife through those slots. This results in more even sharpening.
It should be easy and safe to use.
You definitely would want to avoid sharpeners that require holding them down with the use of your hands. It increases the likelihood of you cutting your fingers or palms. Look for those with ergonomic features and those that are easier to use. There are also those knife sharpeners that can be used no matter what hand you favor. Go for these ones if you have right and left-handed users in your home. Additionally, go for those sharpeners that can truly produce sharp results in mere minutes.
It should come with a money-back guarantee.
The best knife sharpeners are those that come with a money-back guarantee. This way, if the sharpener does not do what it promises to do, you can always get your money back. This increases the confidence when it comes to buying the product.
Go for durable ones that are resistant to cuts and nicks.
The sharpener itself should be made from materials that are resistant to damages. It should also be resistant to corrosion and other forms of wear and tear.
If you keep these tips in mind, you should be able to find a knife sharpener that will suit your needs and preferences better.
What to Do Next?
Are you still in the process of completing your kitchen essentials? Make sure you visit our homepage and find out which products for the kitchen are worth investing your money on. Check out our recommendations as well as our product buying guide to determine which kitchen tools are the best choices for you.